Embracing world languages for a better connection
Hang on for a minute...we're trying to find some more stories you might like.
Learning a language can be a very unique for many students, it can help you stand out from the crowd when it comes to colleges and job opportunities. However, many students at Kaneland say that  they don't want to take a language the formal way. They want to learn more contemporary things, such as swear words and words that people use with their friends. Students complain that the way that the school teaches is too formal and when you go aboard people don't speak like that in the country. I think Kaneland should have less common options that are catered more towards what the students want to learn.
According to Kaneland graduation requirements, you need at least two years of foreign language to graduate, unless you have two fine art credits. But if you are thinking about college after high school, I think a foreign language is the way to go. Learning a different language can be beneficial to lots of people, but it can also be a health benefit to you too.  According to Foreign Language Immersion, learning a second language can improve your memory. It also can lower people's risk for things such as alzheimer's and dementia.
In the United States there are different kinds of people from all over the world. Having the ability to speak a different way could open doors for people. According to a study done on the number of language spoken in the world, there are 6,909 living languages in the world. The term living means that is still used today. The most common one was Mantrin with 329 million speakers world wide.  This helps build relationships. If you can speak their language you might be able to connect with them on a deeper level. If you weren't able to communicate the same way, it would be like playing a giant game of Charades
Also, you can learn about different cultures. For example you can learn about authentic Mexican food or Chinese origami.  We would have a harder doing that now because currently only offers Spanish and French.  However, it doesn't benefit me. This way I can talk to others about how things are in America like baseball and a different version of football.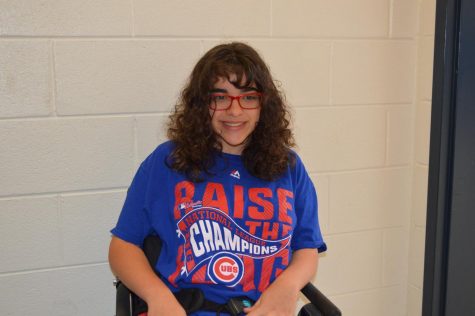 Emma Glennon, Editor

Grade: 11
Position: Editor
Page: School and Community News
Hobbies: Writing, photography, film, youth group