Must make summer recipes
Hang on for a minute...we're trying to find some more stories you might like.
Ridiculously easy and fresh strawberry shortcake
On a hot summer day, this recipe is perfect to have as a snack or dessert. No need to stress, just add a few ingredients together and enjoy.
Ingredients:
Store-bought angel food cake

Store-bought heavy whipping cream

1 pint of fresh Strawberries

Sugar
Directions:
An hour in advance, place 1 pint of washed strawberries on a cutting board.

Cut the stems off of the strawberries and slice them into thin pieces.

Put them in a bowl with half a cup of sugar, cover, and let sit for an hour.

After an hour, place 2 cups of heavy whipping cream in an electric mixer.

Add 3 tablespoons of sugar.

Whip on medium to medium-high until completely whipped.

Slice a piece of angel food cake.

Glaze the cake with the strawberry mixture.

Top the cake with the homemade whipped cream.

Dig in and eat!
Insanely Delicious Strawberry Lemonade
There is almost nothing better than a cold lemonade during the summertime. The frozen strawberries makes this drink taste fresh and cold. What takes this recipe to the next level is the delicious sugar rim that lines the glass and makes the lemonade taste even sweeter.
Ingredients:
Store-bought lemonade mix

1 cup of frozen strawberries

Sugar
Directions:
Following the box instructions, make the lemonade in a gallon or half a gallon sized jug.

From here, pour most of the lemonade into a blender.

Add a cup of frozen strawberries

Mix until blended.

Before pouring the lemonade, fill a small dish with sugar.

Rinse the top of a glass with cold water.

Swirl the top of the glass in the sugar until a rim is made.

Add ice to the glass, pour in the lemonade, and enjoy.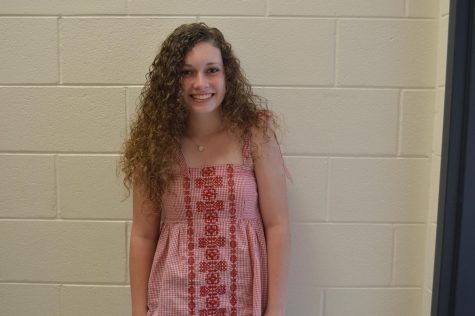 Ashley Manzo, Editor
Position: Editor

Page: Centerspread

Grade: 12