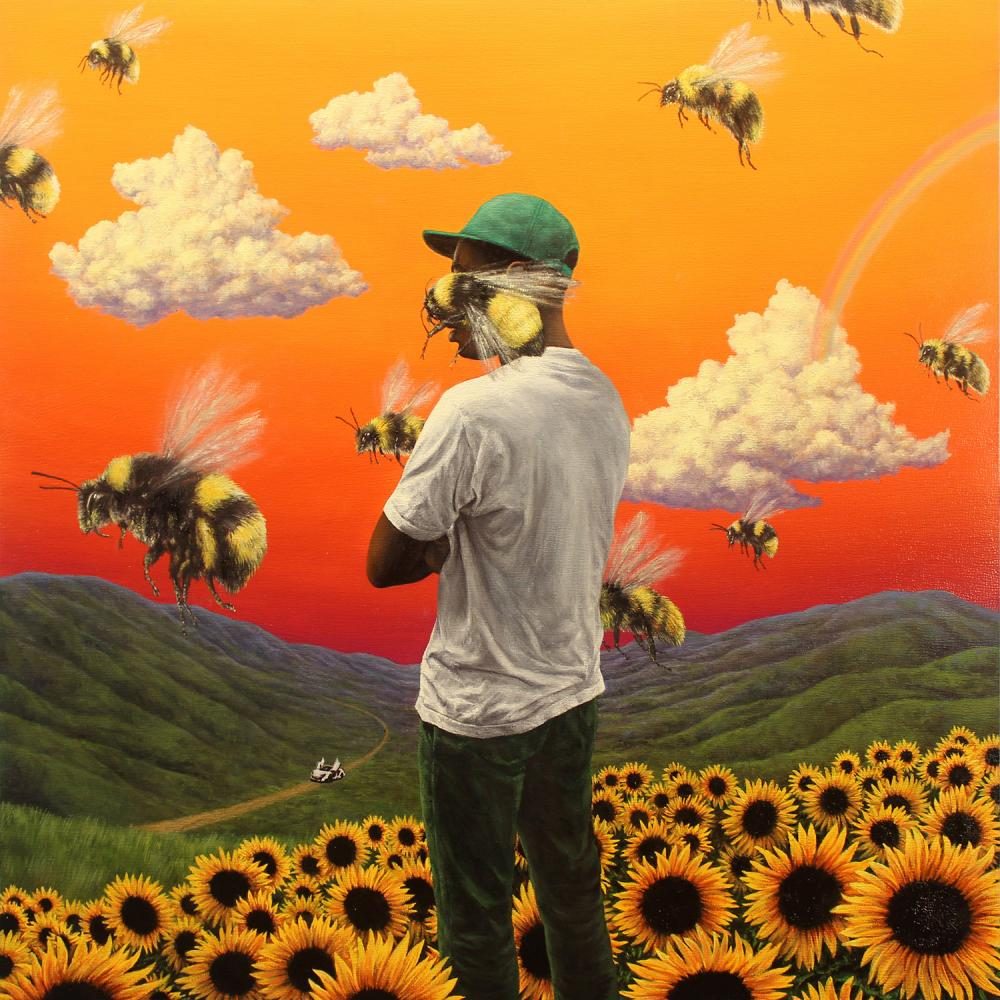 With the influx of bad hip hop piercing the airwaves this decade, it is refreshing to hear rappers bring new things to the table. New ideas and evolution are what remind me of why I love hip hop in the first place. Odd Future did just that when they released their debut mixtape in 2008. Although they have not released material since 2012's "The OF Tape Vol. 2," they are more popular than ever with the material that their members have been releasing individually. These include side projects The Internet and Mellowhype as well as acts such as Earl Sweatshirt, Frank Ocean and, of course, Odd Future's leader, Tyler, The Creator.
"Flower Boy" is Tyler's fourth official studio album following 2015's "Cherry Bomb." Although having possible song-of-the-year "Smuckers," "Cherry Bomb" as a whole was unfocused. It was an experiment that Tyler has improved on all fronts this time around. "Flower Boy" incorporates the best moments of "Cherry Bomb" but puts them into one concise album. Tracks flow seamlessly into one another and Tyler's production is more luscious and kaleidoscopic than ever.
"Foreword" is a great introduction that leads the listener into the album with some chill, g-funk vibes that resurface in the album closer, "Enjoy Right Now, Today." The next track has a great hook by Frank Ocean that shows the two still have the chemistry they had back in their Odd Future days. "Pothole" has a catchy hook that comes from, surprisingly, Jaden Smith. There are two songs in the tracklist that are especially sonically hard hitting when compared to the rest of the album. These are "Who Dat Boy" and "I Ain't Got Time!". The former fails as it sticks out like a sore thumb in this otherwise cohesive project. It would fit perfectly in past Tyler albums such as "Wolf," but it does not fit the sound he's going for this time around. The latter has a perfect blend of a heavy instrumental that still keeps up the airy atmosphere of the rest of the album.
The best track is "911 / Mr. Lonely" as it features some of Tyler's best lyrics, flow and production in the whole album. Runner-up's go to the back-to-back songs "Garden Shed" and "Boredom." "Garden Shed" has beautiful vocals from Estelle and "Boredom" shows Tyler tackling his loneliness and depression with some of his most direct and straightforward lyrics of his career.
Right here is where I will address the elephant in the room. By now, most readers interested in this review have heard about the rumors of Tyler coming out as gay on this album. This might be true. There are multiple references to his sexuality on this album and Tyler sounds very serious when he states them. Although he has not made a proper, public statement about it, there is reason to believe on this album that he is gay. However, this does not matter. The context of Tyler's sexuality makes no difference on whether the music itself is good or not. And, in this case, the music is very good. Tyler, The Creator's "Flower Boy" gets a strong seven to a light eight out of ten.