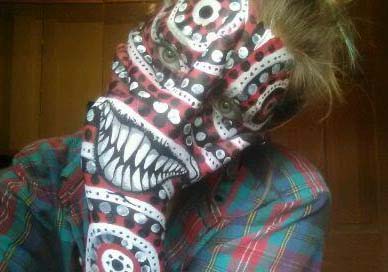 Abbey King
Three years ago, sophomore Abbey King applied her first face of special effects makeup as a trial. Since then, her passion has grown along with her abilities as an artist, including her skills in the world of prosthetics and body painting.
King got involved in SFX makeup and body painting when her and a friend saw some videos online and decided to make an account where they chronicled their newfound talents. On there, they show their creations and connect with other makeup artists around the world. Over time, King channeled her talent and passion and developed a fierce love for what started as a hobby and grew into something more.
Through trial and error, King enhanced her abilities to create appearances for the love of the possibilities.
"You transform someone into something from a dream to a nightmare. The only boundary is your imagination," King said.
King specializes in special effects makeup, also known as SFX makeup, which is the process of molding prosthetics into limitless appearances. When using these techniques the makeup artist can create anything ranging from a garish character to a majestic creature, all from the outlet of the artist's imagination and creativity.
Along with SFX makeup, King enjoys body painting which is a more temporary form of body art. With body painting, King paints any number of creations using any amount of paints and imagination, including skeletons, murder scenes, and twisted versions of the human body.
These artistic adventures take hours of time and money for King to undertake. A prosthetic alone usually takes a month of prep and two hours of application.
Not only does the activity take a lot of time, but the prices of the needed materials can break the bank for King. For only a 16 oz bottle of liquid latex it can cost King $15. The materials range from conventional makeup to plaster.
King perfects her artistry and style from multiple sources on numerous platforms. One of her biggest role models is Elli Mac.
Mac comes from a small town in the southern tip of Sweden and enjoys singing and drawing along with making SFX makeup tutorials. King often views Mac's videos for advice when making her creations. From Mac she learns new techniques and favors her over other artists.
"She keeps cost in mind," King said.
Along with watching numerous videos, King seeks out projects and people with the same interests over social media. With this outlet, King has multiple sources and endless possibilities to try new and revolutionary makeup techniques.
SFX makeup acts as a place to channel King's talent, although she loves the whole experience of the process, she does have a few favorite parts.
"I love trying new stuff and making improvements," King said.
With these goals in mind, King successfully creates anything she puts her mind to.
After graduation, King hopes to continue her passion for SFX makeup and make it her career.
"I want to do this for the rest of my life," King said. In the near future, she also hopes to trying mask making which enables her to completely recreate facial features.
King enjoys testing out her creations in public. She often goes to Jewel Osco to see the public's reaction.
"They usually jump and laugh," King said.
Over the years, King has created close to fifty faces, both painted and created with SFX materials. All of which, have progressed and made her dream to be a professional that much more realistic.