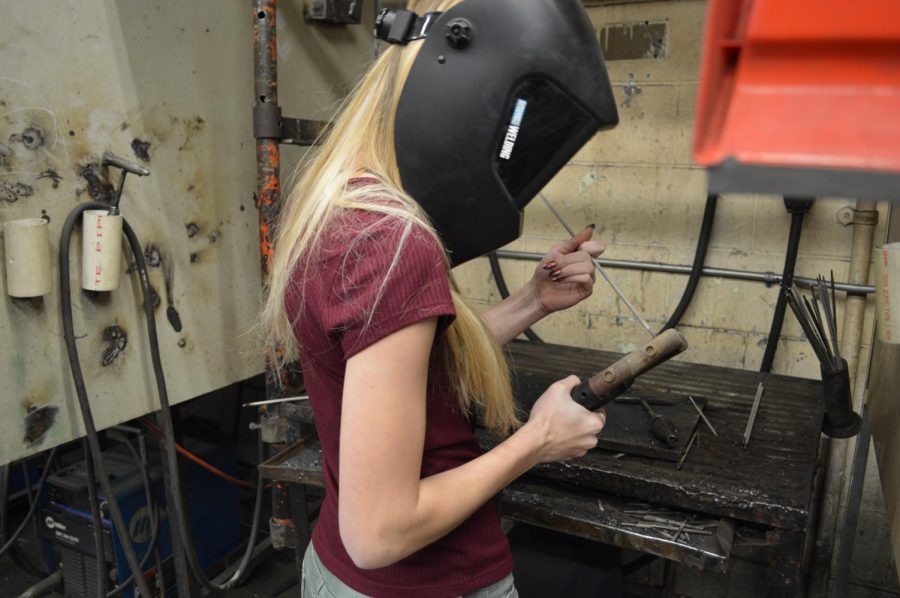 Vanessa Pitts
Not many people can say they've stepped out of their comfort zone, but junior Ashtyn Winkler is one of the few girls who decided to challenge themselves personally and physically to take welding.
"In the beginning it was kind of scary because obviously I was the only girl. Later on I got to know everybody in the class and it's fun because they always joke and mess around with me," Winkler said.
Without knowing much beforehand about welding, Winkler took her father's field into consideration.
"He's a construction worker and he works with a lot of welders. I told him that I wanted to take this class and he was very supportive about it. He's brought some of my welds to his work and shown it to some professional welders, and they said they might look into hiring me right out of high school," Winkler said.
In an environment that's typically surrounded with males, Winkler demonstrates qualities that adds a different perspective to her class.
"Having Ashtyn in the class is like having welding with anybody else because she acts just like another one of the guys, I don't believe that being a girl makes a difference," classmate Evan Carlson said. "From what I've seen, she looks like she puts in more work than most of the guys in the class, I'm pretty sure her grades reflect that too. She's just doing what she wants and she's taking advantage of the opportunities that are given to her," Carlson said.
Out of the five classes throughout the day, Winkler is one of four girls in total to take part in the Fox Valley welding class.
"I think one of the reasons girls don't sign up for welding is because they don't want to be surrounded by guys and be one of the only girls in the class. It could be a little awkward I'll admit, but Ashtyn never let that bother her," Fox Valley instructor Clayton Hansen said. "She shows up, puts full effort, and she's not afraid of work."
Winkler came into this class knowing she had to prove that the stereotype of girls not being able to do what guys do is a misconception.
"I remember thinking like 'How am I gonna do this', but I know that I had to prove that I can weld just as good as anybody else and it doesn't matter if I'm a girl. Their looked at like they don't want to get their hands dirty or they don't want to do the hard work and girls should just be allowed to do whatever they want and be themselves," Winkler said.
Even if it might be intimidating and challenging at first, Winkler advises other girls to ignore the stereotype and join the class.
"Everything was hard at first because I didn't know how to weld and I had to learn the different machines and everything but once you start and use it all more you get used to it," Winkler said.  "Don't let being the only girl scare you to take this class, you could turn out to be an amazing welder and you would've never knew it."