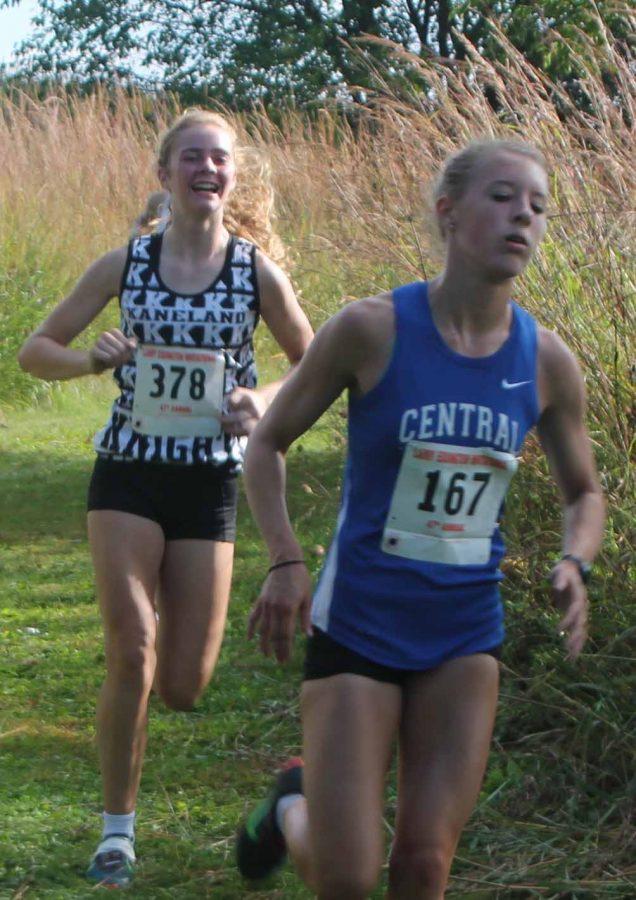 Seventeen minutes and thirty nine seconds, is the three mile personal record for freshman Rachel Richtman. Richtman has worked hard to come this far, hard enough to place eighteenth at state as a varsity runner.
"After state, I felt good about myself setting a new personal record, and also happy for my team on placing ninth overall," Richtman said.
Other than athletic awards that Richtman has earned, she has also received a sportsmanship award, as well as the American Legion Award at her eighth grade promotion. The American Legion Award focuses on a student's courage, honor, leadership, scholarship and service. This annual award is only given to one student per school.
Richtman started running at the age of about twelve because she felt motivated by her siblings, and her uncle, who also run.
Richtman has two older siblings, Becca and Matthew Richtman. Becca has been running on a team since she was in seventh grade, and Matthew for the last four years.
"Rachel usually follows my lead, if I stretch, she stretches, if I do a sixty minute workout, she does the same. We're like a team," Becca Richtman said.
For most athletes, athletics often run into academics.
"I usually have to stay up late and do homework, but right now I have a study hall and that helps a lot," Rachel Richtman said.
Before a race, Richtman gets very nervous, and while she is running she tries to stay relaxed and think everything through. After a race, you can usually find her congratulating her teammates.
"While I'm running, I'm usually saying to myself, 'I hate running, wait no I love running,' or 'come on Rachel run faster'," Richtman said.
Richtman usually sets personal goals for herself including to try harder and go faster.
"Before a race I look back at my old times for that specific course and try to beat that time" Richtman said.
Becca has been running on a team since she was in seventh grade, and Matthew for the last four years.
"It's kinda like a competition, Rachel tries to stay at my level, and compete at my level, and with my times," Matthew Richtman said.
With running in common, the Richtman siblings have a strong relationship.
"We all love running, so it's something we build off of, on Thanksgiving, about 16 of our family members do a turkey trot," Becca Richtman said.
"We all have the same background, so that gives us things to talk about," Matthew Richtman said.
On November 5, all three Richtman siblings ran state. For Rachel, her first high school state, Matthews third, and for Becca, her last.
The transition from middle school to high school cross country was big, and Richtman had no struggle adjusting to it.
"It's definitely a big change, in middle school, it was like 'oh just go out there and have fun', and here in high school we have certain tasks to do and goals to accomplish," Richtman said.