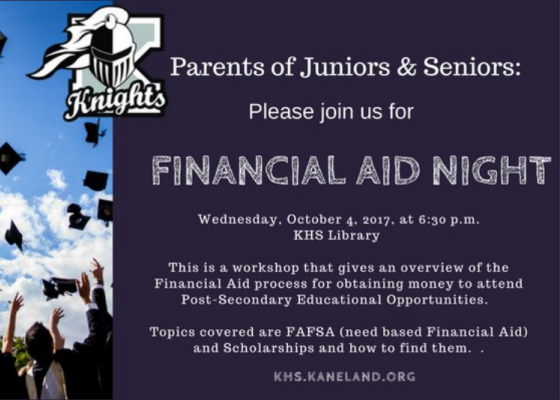 Kaneland High School
According to the Free Application for Federal Student Aid (FAFSA) website, "Federal Student Aid, a part of the U.S. Department of Education, is the largest provider of student financial aid in the nation."
This is regarded as a very important step to applying to colleges, so there will be a FAFSA night at KHS. It will take place on October 4 at 6:30 p.m. in the library. Those who are interested in attending should RSVP to Mary Scholl.
Counselor Andrew Franklin is looking forward to the meeting.
"It's an informative meeting on the whole process of applying for free aid," Franklin said.
Information includes what qualifies for receiving loans and how to pay the loans back. Franklin wants all students to apply for FAFSA.
"Fill it out, no matter what," Franklin said.
Even though not everyone will be eligible for grants, many scholarship opportunities involve the organizations needing to see FAFSA. Having the report filled out can also potentially result in lower interest rates for student loans.
There is an important date to keep in mind when filing for FAFSA.
"If I were a student I would get everything done before October 1, the sooner you file FAFSA the more grant money you can get," counseling intern Anthony Corbo said.