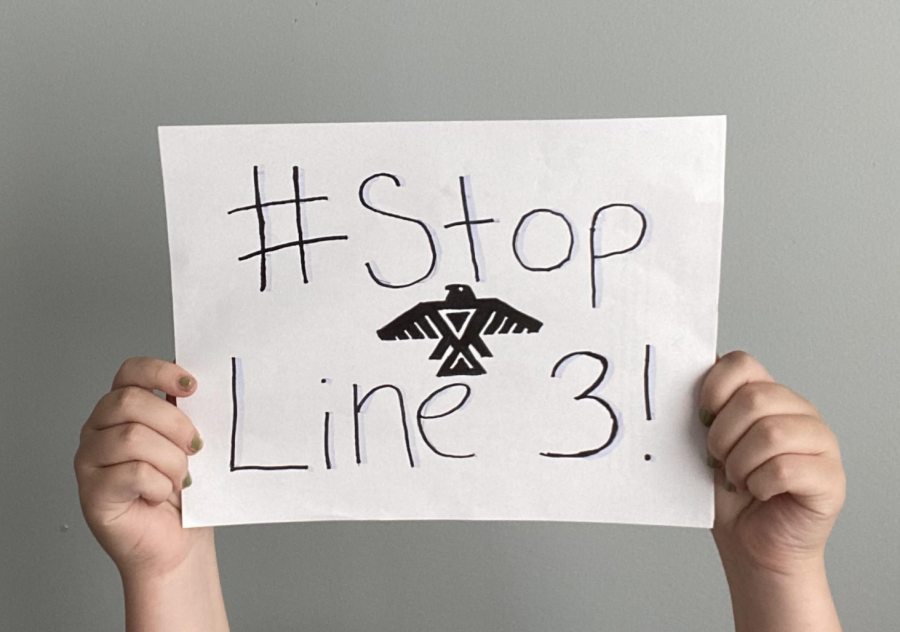 Lizzy Sidman
     After work began in Minnesota in November of 2020, Indigenous activists have been protesting the foreboding completion of Line 3, a tar sands pipeline. The protests have been ramping up recently as it comes to light that Line 3 reportedly runs through Anishinaabe's treaty-protected land and threatens the safety of their water.
     The renovation of Line 3 by Enbridge, a natural gas distribution company, is nearly complete, prompting many to speak emotionally about an issue so close to their lives. According to CBSN Minnesota, local law enforcement officers said that they arrested a total of nearly 250 people as a result of these protests.
     In an interview on Sept. 7, 2021, Enbridge Communications Specialist Juli Kellner said, "Line 3 does not impact treaty rights…the commission reasonably selected a route for the replacement pipeline based upon respect for tribal sovereignty, while minimizing environmental impacts." 
     Many Indigenous communities seek change because they see this as an unjust ruling and are actively trying to delay the production of Line 3 so that the treaties are honored and the environment protected. Because these people believe that Line 3 should not have been approved, there are many in the community that will do whatever they can to stop Enbridge's progress, no matter the legality of their actions.
     Kellner places the blame of the environmental impacts away from Enbridge and onto uncontrollable outside factors.
     "[The Minnesota Court of Appeals] concluded that emissions from the ultimate consumption of oil transported on Line 3 do not result from the replaced pipeline, but instead from the continued demand for crude oil to produce refined products used by consumers," Kellner said.
      Other people disagree with Enbridge's claims and say that worsening climate change has a direct correlation with tar sands pipelines including Line 3.
     "A critical first step is to stop making climate change worse by tapping into disproportionately carbon-intensive energy sources like tar sands bitumen," leading scientists and economists, in a letter to then President Barack Obama and Secretary of State John Kerry, wrote.
     Though the actual production of tar sands pipelines is not very hazardous to the environment, the results and uses of diluted bitumen, which is carried in tar sands pipelines, do. Bitumen is used in place of crude oil but is too thick to be transported any other way but through pipelines. This is seen as the only way to transport efficiently by the companies that control this substance, while others say that there is too high a risk. Opposers to bitumen suggest a swift transfer to clean energy to protect both the environment and the waters impacted by spills.
     Senior Research Specialist Tim Donaghy for Greenpeace USA reported, "TransCanada, Kinder Morgan, Enbridge, and their subsidiaries have seen 373 hazardous liquid spills from their U.S. pipeline networks from 2010 to present."
     3,978 pipelines have burst in the last 2 years around the world, and a lot of that water that the pipelines run through is sacred to the Native American people. The Anishinaabe tribe in Minnesota is now facing the numbers with fear.
     Even though direct consequences of Line 3 fall on the Indigenous Anishinaabe in Minnesota, Mark Meyer, a social studies teacher at Kaneland, is knowledgeable on the effects on Indigenous communities associated with tar sands pipelines.
     "Pipelines burst…the water and land that [Native Americans] inhabit is especially important in their growing of wild rice," Meyer said.
     Wild rice is grown on the water, and it is especially important that this water is clean and untainted. Many Native American groups rely on the production of wild rice for income to many people. Minnesota, where Enbridge is currently renovating Line 3, has the largest wild rice production in the United States, and much of that is done by Indigenous groups. Without this stable food production, many tribes could suffer if a pipeline were to burst.
     Even with these concerns, Enbridge continues on with their construction of Line 3, saying that the pipeline is not at risk to burst and damage the wild rice.
     "Enbridge pipelines have coexisted with Minnesota's most sacred and productive wild rice waters for over seven decades." wrote Enbridge Communications Specialist Juli Kellner.
     Line 3 has been approved and is trusted by the Minnesota Court of Appeals not to spill, but opposing activists think that the construction was a mistake and there is an accident waiting to happen.