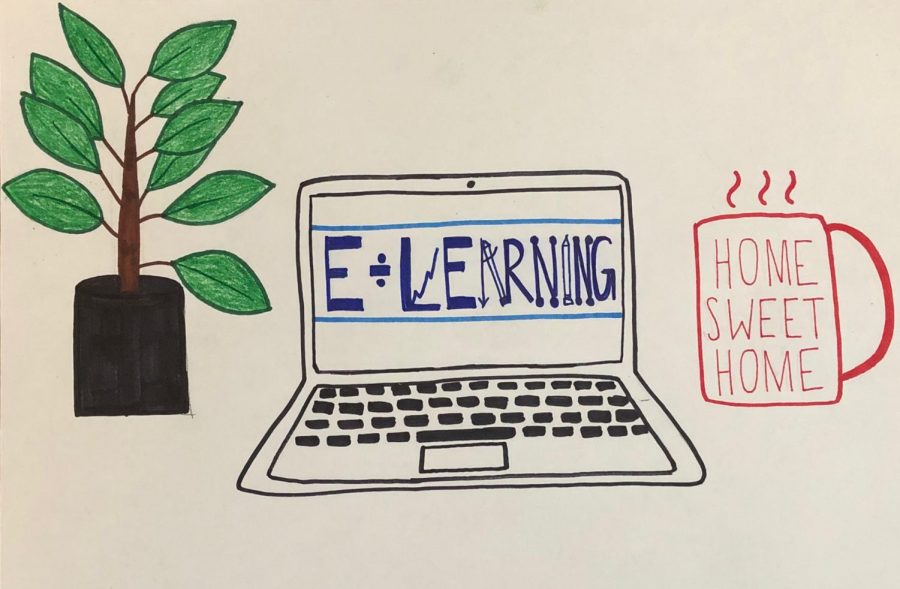 With this generation's fast-paced lifestyle, the world has become far more technologically advanced. In order to stay connected and maximize the use of technology and time in school, many schools are taking steps to embed E-learning into their curriculum. As for Kaneland, E-learning has been an ongoing topic of discussion throughout the district.
According to eLearning North Carolina, E-learning is classified as "learning utilizing electronic technologies to access educational curriculum outside of a traditional classroom."
"E-learning are days in which students are not in attendance but are still learning from home by completing activities assigned to them by their teacher or someone else in the district. These days then count as a typical school day, and the student is given credit for attendance," Director of Educational Services 6-12 Mike Rice said.
Currently, Kaneland has very few established details regarding exactly what E-learning will look like, and the idea is relatively new.
"So far, the only thing that is truly set is the fact that the Board of Education has approved a school calendar that utilizes, or can utilize, several of these types of days. The state of Illinois is currently reviewing the laws that govern E-Learning, and we are watching closely to make sure we are in line with the state guidelines and what we know to be best practice," Rice said.
Schools such as Rosary High School and Marmion Academy already have E-learning in place and have utilized this learning technique on their snow days and late arrivals.
"I don't mind e-learning that much since we don't have to make school days up. The only difference is just that we aren't taught new material. We just complete worksheets about things we may have learned prior to doing E-learning," Rosary sophomore Paige Chiumento said.
Small steps are being taken to try to incorporate the use of E-learning into the curriculum correctly and efficiently. This process begins with making sure students and staff understand the benefits.
Now that the Kaneland School Board has approved the district to be more technologically advanced with a 1:1 approach, students await more news on how Kaneland will incorporate E-learning.
"I have only heard a few things about it, and I know we're supposed to have it during snow days and it would be replacing in-school days," sophomore Linzey Castello said.
There is no rush for E-learning at the moment, and Kaneland is carefully planning how it will exactly be incorporated into the calendar. Currently, Kaneland's main focus is to continue on the path towards personalized learning and standards based grading. The district wants to continue utilizing current resources, like Canvas, Tyler360 and Google Classroom, to connect with students outside of school.
"It is an exciting time to be in education; Kaneland is focused on personalizing learning, so any time there is legislation that supports trying to 'think outside the box' in ways that benefit students, I'm excited to see where that could take us," Rice said.