An Unexpected Local Hero
     I scream, you scream, we all scream for ice cream. After all, who doesn't love this delicious, sweet and frozen treat? I'm sure any kid can recall the happy jingle of the ice cream truck coasting through their neighborhood. 
     Through recent events involving Covid-19, the world has been a darker place. With many businesses shut down, masks having to be worn everywhere and temporary isolation from friends and family, there hasn't been much light. 
     That is why Nancy Crowe and her Cream King ice cream trucks hit neighborhoods once again in May in hopes of lifting spirits. Many kids ran to the sight of their favorite summer visitor. Although things were feeling somewhat back to normal, precautions were still being taken to make sure everyone was getting ice cream safely. 
     "I was able to start in May for some of the towns, and some did not allow us until July. I have taken extra precautions and installed a plexiglass window over the sales window with a gap to hand out the tasty treats," Crowe said. 
     Five-year-old Elburn resident Lucy Bruno is one child who cherishes the ice cream truck the most.
     "I love getting big red, white and blue popsicles and listening to the music," Bruno said. 
     She said she is always happy when she sees the ice cream truck because it means she's about to get rewarded with a sweet frozen snack. 
     With that being said, Lucy isn't the only one who finds joy in the little blue truck. Junior Ashley Lopez still enjoys rehashing sweet memories of the same exact thing. 
     "Now that I'm older, I still love hearing the music of the truck coming to my neighborhood. I have little brothers, and I enjoy getting them ice cream. It brings back so many great memories of me enjoying a sweet Oreo bar or some refreshing cherry ice after the playground when I was younger. It's amazing getting to see [my brothers'] faces light up. Buying their ice cream is a tradition and definitely a must," Lopez said.
     Crowe enjoys serving as much as the children love enjoying. She says her favorite part of driving is the happiness she brings. Lopez said she remembers the friendly sight of the blue truck every summer for as long as she can remember.
     "It has been an amazing adventure bringing smiles to all ages. I plan on being around for many more years to come," Crowe said.
About the Writer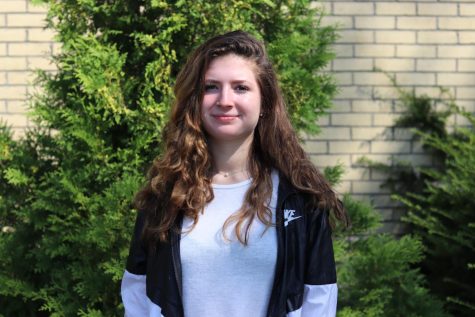 Sophia Drancik, Lifestyle Editor
Position: Lifestyle Editor

Graduation Year: 2022

My Future Goals: I want to become a successful Speech-Language Pathologist for little kids.

A...