Kaneland tennis: Keeping sports enjoyable
     How enjoyable an athlete's experience is when playing their sport of choice can almost directly relate to their coach and their techniques. Having a passionate and fun coach can make for an amazing experience for any type of athlete.
      Varsity tennis coach Beth Miller likes to run her practices in an unconventional way. Miller is entering her second year as head coach following her previous two seasons as assistant coach. Miller keeps her practices positive and fun by prioritizing relationship-building with the team.
     "You have to add a little fun into everything you do. If you're not enjoying yourself, you're not going to want to continue. I believe this is true for sports. If you are too serious all the time, you will burn out," Miller said. "I end every practice with a fun game. We try to bring the entire team together for this. I also look for fun ways to accomplish mundane tasks. For instance, instead of running suicides, we'll play tag or steal the ball. I believe in forming relationships and showing mutual respect, so the girls and I joke with each other all the time." 
     Sports are a great way to get exercise and learn team skills, but running practices and going through drills can get repetitive if the players aren't having fun.
     Senior team captain Anelle Dominguez has been playing for Kaneland since her freshman year. Throughout her four years of playing she has found a balance between having fun and working hard. 
     "The beginning of our season starts off laid-back and you get to find your rhythm, but when conference, sectionals and state are around the corner, we have to focus on every single move we make. There's an equal balance between having fun and focusing on the game. The whole team has fun on and off the courts," Dominguez said. 
     Not only does the tennis team keep sports enjoyable, but they also welcome athletes of all experience and skill levels.
     Junior Nola Noring has been playing on the tennis team since her freshman year and started out with little experience.
     "I had only picked up a racket a few times before I tried out, but the coaches were so welcoming and helpful. The tennis program is a great one to join if you have no experience. There is no judgment no matter what stage of learning you're at. Every day we work on new skills to make us better," Noring said. 
     Feeling anxious is normal for any athlete trying out for a sport, but it can be comforting knowing the coach welcomes all athletes.
     "We welcome everyone of all abilities to the tennis team. Tennis does not have a feeder program in the area, and the closest training facility is the Vaughan Athletic Center in North Aurora. Typically, the girls do not have much experience, and many times they are picking up a racket for the first time when they walk onto our courts," Miller said. "It's amazing seeing the progress the girls make throughout the season and their entire time on the team. Everybody has the ability to learn and improve, it just takes the right [coach]." 
     Dominguez has learned a lot during her four seasons on the team. She has many personal goals she has set for herself but also goals that relate to her role as team captain.
     "I want to win as many matches as I possibly can, but I also want to make the girls on the team feel like they can come to me for advice even when our season ends. Of course, everyone wants to win, but I truly want to build better relationships with the loving girls on the team," Dominguez said. 
     With Miller's coaching techniques and the priorities she has, the team strives for greatness but also focuses on the most important things: being a close-knit group and helping each other out. 
About the Contributor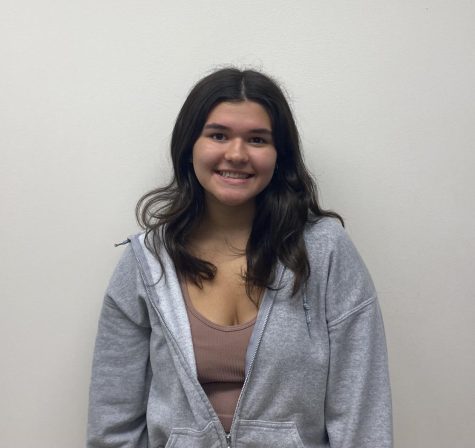 Sofia Williams, Sports Coverage Manager
Name: Sofia Williams



Position: Sports and Activities 2 Editor



Graduation Year: 2024



A Few Sentences About Me: I...