Supporting a Local Small Business
According to fortune.com, as of August 2020, about 97,966 small businesses have permanently closed due to lack of activity and lack of sales. This number has only been increasing as the months go on. Any small business owner deciding to open during these tough times can be described as nothing but daring.
HEY SUGAR, a business located in downtown Geneva, opened July 17 amidst the COVID-19 pandemic. Precautions such as social distancing and constant sanitation are being practiced to ensure both staff and customer safety. Fortunately, in Sarika Singh's view, she has seen her establishment's opening as an overall success.
Singh is the owner of this "Instagrammable" small business. Singh has experience in business operations due to her prior ownership of The Latest Crave, a small shop selling primarily cupcakes alongside a few other pastries and sweet desserts. 
The Latest Crave was given to Singh by two Geneva moms about seven years ago. Upon rebranding her shop to HEY SUGAR, she added specialty coffees, hot chocolates, teas, soft serves and many more delicious treats.
The new and improved shop was scheduled to open in late spring after starting construction and planning designs in early January 2020. However, things didn't go as planned. Due to the pandemic hitting and the stay-at-home orders put into place, Singh decided to take the time in quarantine to begin planning her bakery's new and improved menu.
"I had [menu] ideas all written down for a few years and did trials at home during the lockdown since we couldn't open as initially planned in March. Our menu is still constantly changing as new trends come up," Singh said. 
Saraya Singh, Singh's daughter, is only 13 years old, but has loved seeing her mom's new business come together despite the sadness she feels from departing one of her best childhood memories, The Latest Crave.
"When my mom said that we were going to be moving locations and rebranding, I was excited to see what would be accomplished. For months, they had talked about these big plans to come to life, and one of the main designs they were excited to recreate was the flower wall with the bathtub in front of it," Saraya Singh said. "All of these plans were really exciting, but at the same time I was going to miss the old location because I basically grew up there. I was there almost every day, and I was proud of all of the work that had been done there. Even with that being said, I'm really happy about how HEY SUGAR turned out, and I'm amazed at the progress we've made."
Along with physical construction, there were other COVID-19 disadvantages that ultimately played a big part in the store's upgrade.
"The initial switch was stressful being that The Latest Crave was forced to shut down [due to the stay-at-home order] and at the time, we did not know when our new store opening would be. Meaning, no steady work. However, when I was first informed that we would be moving and rebranding, I was extremely excited. Finally, a storefront that people could see! I knew it would be a successful move for us," HEY SUGAR manager Priscilla Lachica said.
Lachica said that despite the tough and stressful move, it was all worth it when the consumer interest numbers quickly increased. 
Singh also said that she's grateful for her sales, but nervous for the winter. Cases are beginning to rise, rules like the no dine in rule are lengthening and people are starting to stay in to avoid the cold completely.
"I was scared to open at all during COVID but couldn't just sit and wait. It's very costly to open a business period. But, during a time like this, it is even more expensive as we have to take into consideration safety and the health department's rigid requirements," Singh said. "Every day is stressful. Not knowing what restrictions might come up or the constant issues with employees being exposed is 24/7 on my mind. We've been blessed to be busy for the most part. Weather is definitely a factor in foot traffic in the area, and adding restrictions makes things tricky," Sarika Singh said.
One helpful factor in the midst of all the chaos, along with Sarika Singh's favorite thing about the store, is the shop's "Instagrammable" interior. Upon entering, consumers are welcomed with a path of flowers and a big white bathtub. This is a huge factor in drawing people in and has helped the business tremendously.
"My favorite part of HEY SUGAR is the decor and menu. The decor is almost to the tee how I drew it out with a pencil. So to see it come to fruition is exciting. The menu is fun and playful and is a family affair as we are foodies," Saraya Singh said. "People should visit to try some of our products and of course to take a few pictures. [The store] is different. It's whimsical. It is the one place where you can play with your food and let it get messy." 
Saraya Singh also included all of the store's perks and spoke highly of the employees, who aim to ensure complete satisfaction and to provide great customer service.
"Personally, I think people should visit HEY SUGAR because it has over the top desserts that no other place offers. We have delicious cupcakes and bakery items, amazing hot cocoa bombs, crazy hot chocolate specials, really cool ice cream specials and flavorful coffees and teas. The staff is very helpful and can answer any questions you have. The decor is beautiful and the flower wall is the perfect Insta spot. Even the bathrooms have unique designs where you can also take pictures. It's all very different from the places in the area and it's a perfect spot to go," Saraya Singh said.
In addition to those items, HEY SUGAR is known for collaborating with many other brands to get the most premium products out. They get all their loose leaf teas from a brand called Rare Tea Cellar. One of the company's teas can sell anywhere from $10-$90 just for a ¼ pound. They also carry pies from another premium company in Chicago called Justice of the Pies. Finally, they carry two coffee roasts from a brand by the name of Dilanos in Seattle. These are all contributing factors leading to the, so far, successful opening of HEY SUGAR.
About the Contributor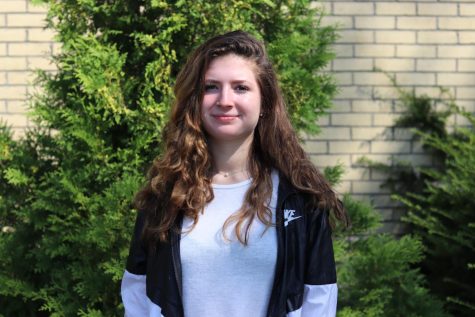 Sophia Drancik, Lifestyle Editor
Position: Lifestyle Editor

Graduation Year: 2022

My Future Goals: I want to become a successful Speech-Language Pathologist for little kids.

A...