Remembering a fighting knight
Hang on for a minute...we're trying to find some more stories you might like.
"Hakuna matata, it mean no worries for the rest of your days." That is how beloved alumna Julia Pratte lived out her life, even through three battles of Ewing Sarcoma, a form of bone cancer. But unfortunately, on Nov. 23 after all her family had come to celebrate Thanksgiving with her, Pratte ended her battle with cancer.
Sometimes, when a person is going through a hard time it can be hard to stay positive. However, this was not the case for Pratte. She always stayed positive and always put others first.
"While Julia was admirable for several reasons, it was her love of life that inspired me the most. Even in the face of cancer, Julia continued to foster optimism and joy. Her presence at Kaneland is one that will never be forgotten, as she truly defined what it means to be a fighting knight," friend Madeline Mohatt said.
In life people learn many different things from many types of people. Julia taught her peers many lessons.
"She taught others how to love and be kind. To find the positivity in any given situation. She taught others how to fight even when they have nothing left to fight with," friend Mary Lynn Clausen said.
Those who knew Julia knew that she liked to watch "The Lion King" and "America's Got Talent" but what she loved most was writing stories with her friends and recalling everyone's birthday that she was ever told.
"I will miss her being able to recall everyone's birthday that she knows and her goofy Disney stories, smiles, laughs and her cute little run during PE," friend Kyla Daley said.
If you are interested in attending her service, the date is Dec. 16 from 2-6 pm, at the Meredith Road Middle School.
"Once a Kaneland Knight always a Kaneland Knight," Julia Pratte said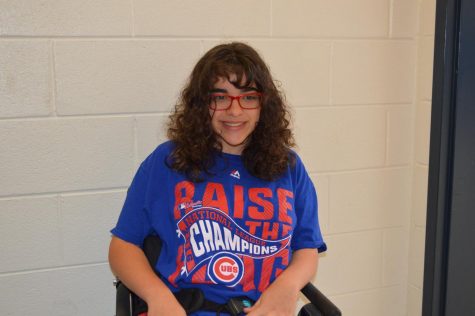 Emma Glennon, Editor

Grade: 11
Position: Editor
Page: School and Community News
Hobbies: Writing, photography, film, youth group