Gifts to give your loved ones
Hang on for a minute...we're trying to find some more stories you might like.
With Valentine's Day quickly approaching you may find yourself in a rush to find gifts to give to your friends or loved ones. Everyone expects the basic card and flowers, so why not give them something they won't expect. Here are a few quick and easy gifts to make for Valentine's Day.
Shadow box:
1 5×7 inch shadow box frame
1 30 count pack foam sticker hearts
1 25 ct pack puffy hearts
1 pack heart confetti
1 roll washi tape
1 piece cardstock paper
1 glue stick
Picture(s)
Directions:
Remove the back of the frame. Take the cardstock paper and trace out the back of the frame and anything else that may need to be cut out. After it's cut, glue the paper down to the back of the frame. If there is a clip on the frame, you can clip your picture on now, if there's no clip then glue the photo in the center. Take the washi tape and tape around the edge of the paper to make a border. Next you can arrange the heart stickers and stick them on however you'd like. Take the sequins and puffy hearts and fill the inside of the frame with them using as much as you'd like. Finally, place the back of the frame back on and clasp it shut.
---
Love bucket:
1 small bucket
2 chocolate truffles
1 face mask
1 pack shredded paper
3 chocolate roses
1 chocolate bar
1 pair fuzzy socks
Ribbon (optional)
Directions:
Take the bucket and place the chocolate bar along the side of the bucket. Next, take the shredded paper and fill the bucket half way. Take the socks and face mask and place it on top of the paper then place more paper on top. Place the chocolate truffles on top and arrange the chocolate roses however you'd like. To finish the bucket, you can take ribbon and wrap it around the bucket and tie a bow on it if you'd like to.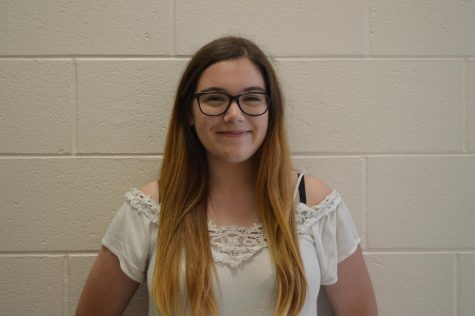 Vanessa Pitts, Webmaster

Grade: 12
Position: Webmaster
Hobbies: Playing guitar and ukulele
Extracurriculars: Global cultures, Educators Rising
Favorite thing: Her...