December 21: Trending Electronics to Give for Christmas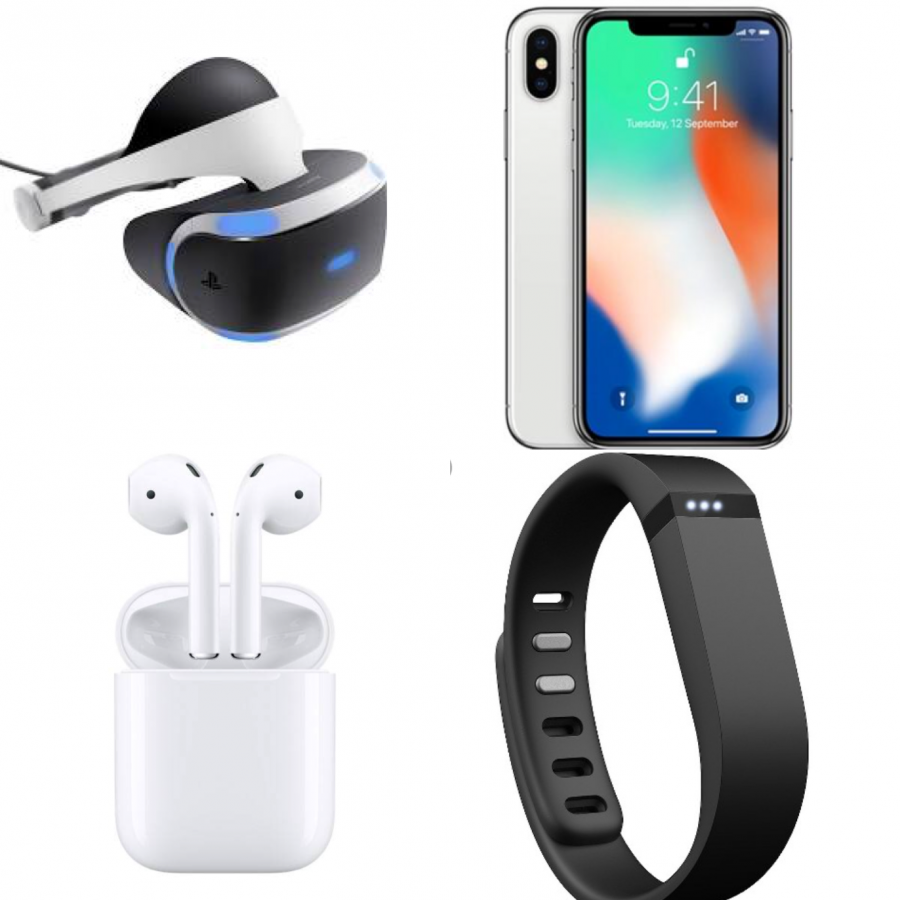 By: Brett Walner, Reporter
December 21, 2017
Electronics are always a great gift to receive, and if you're having trouble this holiday season deciding what you want on your Christmas list, here are some of the best electronic Christmas gifts to ask for.
Let's face it, exercise is just not fun, nor do we actually want to do it,  but that can all change with a Fitbit. A Fitbit is an activity tracker, it can track how many steps you take per day, calories burned, and your total distance walked. It can be bought on Amazon, Ebay, Target and Best Buy and the price can range from $60 to about $300.
Running can be hard without any music to listen to, and it can be annoying to run with a cord dangling down into your shorts, hitting your arms every time you stride, so buying the new Apple Wireless Air Pods can solve all these problems. They are wireless earbuds that come with a charging station that can be found at any Apple store, Amazon, Ebay, Target and Best Buy, they are selling for $159.99.
Even though Apple products are always very expensive, it doesn't mean that it can't be a great Christmas gift. The iPhone X has recently just came out and it has everyone talking about it. It's being sold for $999 or $49.95 per month.
Also, if you are looking to add an accessory for your iPhone, consider an Apple watch. The Apple watch is a great investment for someone who has a busy schedule, allowing users to set reminders, reply to messages and even track physical activity. The price ranges from $250 to $500.
Video games have and always will play an important role in a male's teenager life, especially on a boring day, and everyone deserves to have fun when they're just by themselves, that's why videogames are also a great gift to ask for. Video games for the Xbox or Ps4 can be priced anywhere from $2 to $60, and can be found at Target, Walmart, Best Buy, and almost every shopping website.
Furthermore, if you are looking to step out of your comfort zone and experience videogames in virtual reality, then the Playstation VR should be on your Christmas list. It can transport you into different worlds, and turn your biggest fear into reality by putting on the headset over your eyes and ears. The price online is $350, but you can possibly find it cheaper on Amazon or Ebay.
Everyone's family deserves a great Christmas, and great presents, so having gifts that everybody can enjoy, leaves everyone satisfied. The Amazon Echo is a brand of smart speakers that connects to the voice controlled personal assistant, Alexa, who can play music, provide information, news, sports and many more. It is sold on Amazon for $100.
Additionally, capturing a family vacation or fun activities is pretty hard without a GoPro, a camera that can be strapped to your chest or to your helmet. Having a GoPro can make recording a lot more easy and less stressful. The price ranges from $125 to $700 depending on the size and quality of the camera, and can be found at Best Buy and on most online shopping sites.