December 24: Donut Panic this Holiday Season
Quick and cheap festive desserts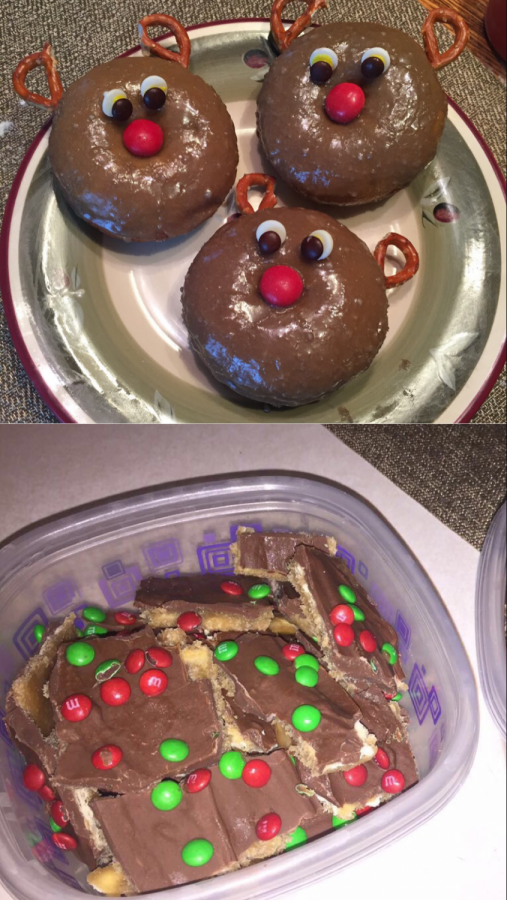 Christmas morning in my house is very fast paced because we are always running late. A donut is an easy on-the-go breakfast. Try adding a Christmas twist to make these vanilla cake donuts a little more festive. Grab a donut, a cup of hot cocoa and be on your merry way!
First, gather all your ingredients for the donuts. You'll need:
-1/2 cup greek yogurt
-1 egg
-1/2 tsp vanilla extract
-2 tbsp oil (vegetable, olive, etc.)
-2 tbsp butter (melted)
-1/2 cup sugar
-1 cup all-purpose flour
-1/2 tsp baking soda
-1/4 tsp salt
Materials:
-2 bowls
-Donut pan
-Whisk
Preheat oven to 350 degrees

In a large bowl combine these ingredients: greek yogurt, egg, vanilla extract, oil, butter and sugar.

Whisk all the ingredients.

In a separate bowl combine: Flour, baking soda, salt. Stir them together.

Combine the two bowls of ingredients, and mix together until a batter is created.

With a spoon scoop batter into the 6 ring donut pan (distribute evenly). If you don't have a donut pan handy. You can easily shape the donuts into a circle and bake in a greased pan.

Bake for 12-16 min, or till edges are golden

Let them cool for 5-10 min before frosting
Next, make the reindeer design. You will need:
Frosting:
-1 cup powdered sugar
-1 tbsp butter
-1/4 vanilla
-1-3 tbsp milk (add as needed)
-Red, Yellow, Blue food coloring
Combine the ingredients in a bowl, and mix thoroughly.

To make the frosting brown add 4 drops red food coloring, 10 drops yellow food coloring, and 3 drops blue food coloring. Mix until distributed evenly throughout the frosting.

Take 1 donut and dip it halfway into frosting bowl, then set aside for them to dry.
Decorating:
-6 pretzels
-6 red m&m's
-12 mini brown m&m's
-12 white chocolate chips
Once the frosting is dry place a red m&m in the middle of the donut
Break the pretzel in half and stick them into the outer edge of the donut, making antlers.

Above the red m&m place two white chocolate chips to make eyes.

Place a brown mini m&m on each white chocolate chip (stick them together with leftover frosting).
Enjoy your fresh and festive holiday treat!
---
You never want to go to a Christmas party empty handed, and making a dish can be somewhat time-consuming. A quick five ingredient dessert that everyone will love is just what you need.
Ingredients:
-1 cup butter
-1 cup brown sugar
-40 saltine crackers
-1 semi-sweet chocolate chip package
-Red and green mini m&m's (optional)
Materials:
-Saucepan
-18 x 12 baking sheet
-Aluminum foil
-Whisk
Step:
Preheat oven to 350 degrees.

Line 18 x 12 baking sheet with aluminum foil.

Spread out saltine crackers, lining the base of the pan.

In a saucepan, melt butter and brown sugar over medium heat on a stove top.

Stir constantly with a whisk for 5 min.

Immediately pour butter and brown sugar over crackers to cover them completely.

Bake in the oven for 5 min.

Take out of the oven and sprinkle chocolate chips evenly on the hot toffee.

Wait for 1 to 2 min while chocolate chips melt.

With a rubber spatula spread the melted chips over the toffee.

Optional: sprinkle M&M's on the melted chocolate.

Chill in the fridge for 2 hours.

Peel away the foil, and break the toffee into pieces.
About the Writer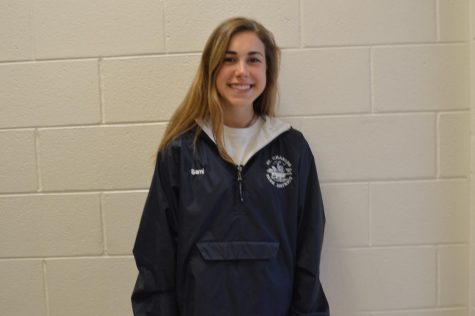 Sami Callaghan, Executive
Ad and Business Executive. Class of 2020.