Halloween Costumes to try This Year
Rubik's Cube:
    Everyone can solve a Rubik's Cube if you make it. You may be thinking a Rubik's Cube is very complex but with a big cardboard box, some duct tape and a sharpie, and you will be transformed into an impossible to solve toy.  You can go to any retail store and buy the five different colors of duct tape that are on a Rubik's Cube, for $2.99 each.  The five colors you will need are green, orange, white, yellow, red and blue. $1.08 will be all you need to buy a large cardboard box at your local walmart. The Rubik's Cube can be easily assembled by placing the duct tape in large strips down the side of the card board once you cover the side draw a 3 by 3 grid with the sharpie.
Uncle Eddie from National Lampoon's Vacation:
    Uncle Eddie, a classic character from National Lampoon's vacation.  To pull off the iconic look of Eddie, all you will need is a white robe, a vacuum hose, brown boots and an eskimo hat.  A white robe you can find at any clothing store. A vacuum hose can be found at Home Depot or Menards. For a cheap pair of brown boots, you can look at any shoe store or any store that sells shoes. An eskimo hat can be found anywhere that sells winter clothing. Uncle Eddie is a great way to show off your Christmas spirit during Halloween.
Rosie the Riveter:
     Rosie the riveter is an iconic name.  It is also a very easy halloween costume to make.  To replicate Rosie, all you need is a blue button down t-shirt and a red bandana.  The blue button down shirt can be found at almost any clothing store. To wear the shirt, you will need to roll up the sleeves up past your elbow. The bandana is worn around your head with your hair pulled back. The bandana can be found at any local store. As much of an icon Rosie is we can all be her for halloween with how easy this costume is to make.
Favorite Athlete:
    Everyone has a favorite athlete whether it's a football, baseball, tennis or hockey player.  Dressing up as your favorite athlete is easy because you can buy their jersey on a lot of online stores. A helmet or hat is also pretty easy to come by with all the different sports stores we have.  For the pants of your athlete, you can go to the same place you get your helmet or hat from because the sports store will them. Dressing up as your favorite athlete for Halloween is a good idea because you can look good and represent your favorite team.
About the Contributors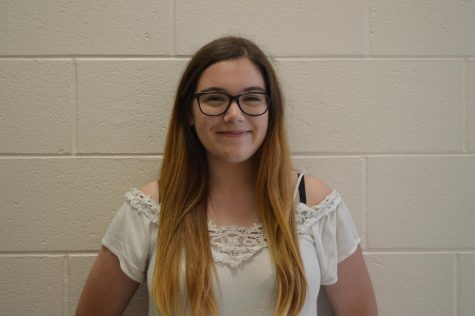 Vanessa Pitts, Webmaster

Grade: 12
Position: Webmaster
Hobbies: Playing guitar and ukulele
Extracurriculars: Global cultures, Educators Rising
Favorite thing: Her...