Who Will Win at The Oscars?
The Academy has announced this year's nominations for the biggest awards show of the season, the Oscars. Movie fans everywhere are frantic and arguing over who they want to win, the biggest snubs, and wishing some got more recognition than other nominees. The biggest disputes around awards season are always centered around who will win each award. Some of the biggest awards of the night are best actor, best actress, best supporting actor, best supporting actress, best picture and best director. This year, nominees are pit against each other like never before and tensions are high. Almost every contender in each category could certainly win (some more than others,) but who is most likely to take it home?
There are currently nine best picture nominees: Ford v. Ferrari, The Irishman, Jojo Rabbit, Joker, Little Women, Marriage Story, 1917, Once Upon a Time in Hollywood and Parasite. Typically, this category only has around five-to-seven films up for grabs, but this year changes that. However, some have more of an advantage and a better chance at winning. In more sensible terms, the films that have advantages are The Irishman, with an all-star cast and amazing fanbase, 1917, the next great war picture that has already gained at least three award wins this season and has 10 Academy Award nominations. Once Upon a Time in Hollywood is also quite the contender, as it is a movie about the movie industry (along with an unbeatable soundtrack and three Hollywood heavyweights leading it.) Little Women is a fair nomination, but would probably not take an award of this magnitude home, along with Jojo Rabbit. Marriage Story was a very raw film, but winning best picture is not in its future by a longshot. Parasite has plenty of buzz surrounding it, but the aforementioned have a better chance. However, winning could make it the first international film to win best picture of the 11 others in the past. Ford v. Ferrari is the only film on this list that has absolutely no chance at winning. It is not a terrible movie, but definitely not worthy of being called the best film of 2019. It all comes down to opinion, but logically, Joker and Once Upon a Time in Hollywood are most likely the top two that could take the award over any other films nominated.
While best picture has some variety, best director has some competition. The nominees include Martin Scorsese for The Irishman, Todd Phillips for Joker, Sam Mendes for 1917, Quentin Tarantino for Once Upon a Time in Hollywood, and Bong Joon Ho for Parasite. Though it is not impossible to score two awards in the same night, it is quite rare at the Oscars, especially since all of the directors' films are nominated for best picture, as well. Sam Mendes has already won other awards for his World War I flick, Quentin Tarantino has won seven for his Hollywood film, The Irishman has won at least two other awards, Bong Joon Ho has six awards under his belt, and Todd Phillips has one–so far. With Joker leading the entire ceremony with 11 nominations, it is very possible for Phillips to win best director, along with Sam Mendes. Phillips may be most likely to win, that is if Joker does not receive best picture, but Mendes is in it to win it, as well.
Besides having a director and main actors to support the backbone of a film, supporting actors are needed to make a movie's final product, or the leading actors would have no one to lean on. This year, many well-known faces in Hollywood are up for best supporting actor. The list of celebrities include Tom Hanks for A Beautiful Day in the Neighborhood, Anthony Hopkins for The Two Popes, Al Pacino and Joe Pesci for The Irishman, and Brad Pitt for Once Upon a Time in Hollywood. The actors that have the best shot at winning are Tom Hanks and Brad Pitt, however. Tom Hanks is popular among the Academy and gave a performance based on a true story, while many believe Brad Pitt's portrayal of fictional Cliff Booth is his career-defining performance. If anyone has the cat in the bag, however, it is Brad Pitt. He defines the whole movie, challenges himself and gives a fantastic performance. Al Pacino and Joe Pesci are nominated for the same film, which may give it a better chance at winning, given Joe Pesci coming out of retirement to do it and Al Pacino giving great performances one after the other, but Brad Pitt outshines both actors. Anthony Hopkins will most likely not win for The Two Popes, either, with much better performances surrounding him in this category, though true-story films do give advantages. Brad Pitt seems like a shoe-in for winning, but it is ultimately left up to the Academy.
While men seem to be dominating the nominations this year, that is not to say there were not great performances by women, such as Kathy Bates in Richard Jewell, Laura Dern in Marriage Story, Scarlett Johansson in Jojo Rabbit, Florence Pugh in Little Women, and Margot Robbie in Bombshell. These supporting actresses all delivered honestly and gave all they had to make sure their films were as good as they could be. However, some performances were better than others. Scarlett Johansson gives a solid performance in Taika Waititi's anti-war film, but not solid enough for her to gain a two nominations in the same year, something only 12 others have done before. Who may be more likely to win, though, is Laura Dern. Her performance was showstopping and she was the best character in Marriage Story. Kathy Bates' acting was convincing, given her motherly and maternal characters in the past, however the mediocracy of Richard Jewell taints her character. Florence Pugh is also a nomination that has a chance at taking home the Oscar. She brings her own twist to Amy March and makes her more sympathetic. Margot Robbie's Kayla in Bombshell escalates from a timid reporter to a disturbed woman and is amazing, which makes Robbie another contender to take home the Oscar. Although there were better performances, among those nominated, Dern, Robbie and Pugh are the more legitimate candidates.
Considered to be one of the biggest awards of the night, the nominees for best actress this year certainly are a step up from certain previous shows. The nominees this year are Cynthia Erivo for Harriet, Scarlett Johansson for Marriage Story, Saoirse Ronan for Little Women, Charlize Theron for Bombshell and Renée Zellweger for Judy. While Ronan, Johansson and Theron also carried their movies from beginning to end, Erivo and Zellweger are favored by the Academy to win, seeing as they have almost always selected the actors and actresses who take on roles like Harriet and Judy. Though the other actresses still have a bit of hope, the ideal champion in the eyes of the Academy will either be Erivo or Zellweger.
Much like the best director category, the best actor category will also be one of the toughest categories to choose just one nominee. This year, Antonio Banderas is nominated for Pain and Glory, Leonardo DiCaprio is nominated for Once Upon a Time in Hollywood, Adam Driver for Marriage Story, Joaquin Phoenix for Joker, and Jonathan Pryce for The Two Popes. Pryce, Banderas and Driver do not have as big of a chance at winning the award when compared to DiCaprio and Phoenix's performances. Phoenix went through physical and mental turmoil to prepare for his role as Arthur Fleck, changing himself drastically. DiCaprio gave a spectacular performance as Rick Dalton, as well. His emotions are raw, his voice is entirely different, and drives the story from beginning to end.
When it comes down to it, only the Academy decides which nominees truly were the best of 2019. Tension is running high this year, and it is all thanks to the wonderful performances by directors and actors alike that got their films nominated. While some seem more likely to win than others, the only deciding factor is Feb. 9, 2020.
About the Writer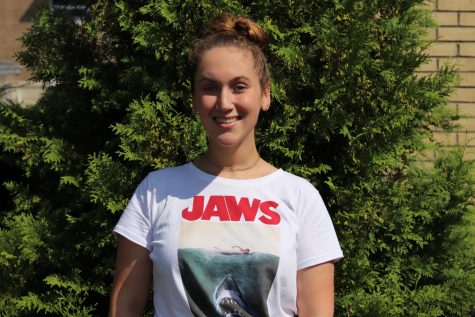 Sarah Janito, Centerspread Editor
Position: Centerspread Editor

Graduation Year: 2022

My Future Goals: I want to graduate high school, go to college and pursue my passion. It has...