Kaneland's glaring need for a fieldhouse
     It is not unusual for the hallways throughout Kaneland to be busy far after the regular school day ends. A typical track practice between Feb. 1 and Spring Break, for instance, is likely to occur in the same hallways that students pack during each passing period. The sprinters will be in one hallway, while the hurdlers are in another. Maybe the distance runners will be outside braving the conditions. Throwers will be on the West Gym stage, while pole vaulters will be practicing in the East. Jumpers will find a different empty hallway. And what if it's too rainy or snowy or wet or cold for the baseball, softball, tennis and lacrosse teams to practice outside? Then they'll have to come inside to seek some space as well. 
     There are so many problems with this all-too-familiar situation, and there is an even bigger problem that causes this to happen. The solution to this problem and many more is the addition of a fieldhouse. Not only would the staff and students at Kaneland benefit from the construction of a fieldhouse, but the community as a whole would see its value. 
     The problem of athletes not being able to practice to their maximum potential is the most obvious problem the addition of a fieldhouse would help solve. One reason why the athletes struggle to practice to the best of their ability is because of the current facilities at Kaneland. The facilities are looked down upon by the student body because they simply are not good enough. The auxiliary and West Gym are almost impractical for all sports, and they have been the root of many injuries for the athletes at our school. Head boys track and field coach Andy Drendel has experience from playing in the West Gym as an athlete at Kaneland, and now he coaches in the same facilities he used when he was a student. 
     "That West Gym hasn't changed since I was here, and that was awful back when I was a sophomore playing basketball. I remember pulling my groin in there because I jumped and completely slipped," Drendel said. 
     It would be one thing if changes were not necessary, but that the need for change is so glaring is what makes it difficult for people to understand why significant upgrades have not occurred. Kaneland athletes deserve to practice in better conditions and better gyms than the ones provided now. Senior soccer player and track athlete Sean Gannon has practiced in the West Gym and feels it does more harm than good. 
     "The West Gym is a hard surface to play on. The ball would bounce around the entire time, and at the end of practice it would feel like we would get nothing out of it. The surface would also be hard on the feet and lead to sprained ankles and sore muscles almost every time we were in there," Gannon said. 
     Students know they deserve better, and sometimes it is hard for them to be motivated to practice in such circumstances. Sophomore track athlete Alyssa Galvez sometimes finds it hard to have motivation when practicing inside. 
     "When we have to practice inside, we throw on the West Gym stage. I do not like throwing up there because it is really dark and kind of depressing, and I feel a lot less motivated to do it," Galvez said. 
     This lack of motivation in athletes is also evident and understood from a coaching perspective. Head boys basketball coach and Physical Education Department Chair Ernie Colombe believes that athletes would be more motivated if the facilities they practiced in were improved. 
     "This is just an opinion, but I think that when students and student-athletes come into a building and see [a fieldhouse], that does change your mindset. It is hard to motivate kids sometimes when you walk into a facility that is not that good. In my opinion, new facilities would raise the bar. Just the mental approach to everything would change," Colombe said. 
     A common misconception about a fieldhouse is that it would only be beneficial to the athletes of the school when in reality it would be helping everyone. The physical education program would benefit greatly from having access to a fieldhouse in many different ways. One way it would help is from a curriculum standpoint. There would be opportunities for P.E. teachers to plan and implement more diverse lessons. A fieldhouse would make P.E. more enjoyable for both the staff and the students. 
     "I believe that if we got a fieldhouse it would completely change and revamp our entire P.E. curriculum. You could add in a rock wall or a high ropes course," Drendel said. "You could make it a multipurpose facility, not just for track or the basketball courts in the middle. It would be really fun as a P.E. staff if we had that kind of facility. 
     In addition to the new advantages and opportunities a fieldhouse would bring, it would also make classes and practices safer for the students. Currently, a typical West Gym P.E. class has a couple basketball games going on simultaneously with people also just trying to shoot by themselves. Then there are more people in the middle of the court trying to do their own thing. This current environment is a disaster waiting to happen, and if there are ways to minimize the potential for harm, this seems like an idea worth seriously exploring.  
     "The biggest thing from a safety aspect is the space, especially with P.E. classes being 35-40 kids in [the West Gym]. Having the ability to spread everybody out, especially in the P.E. realm, would be huge. It would make a massive difference in not just the safety but also in terms of doing more activities and units," Drendel said.
About the Writer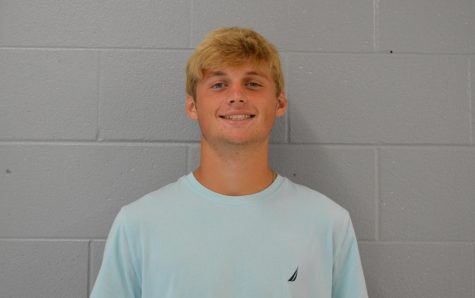 Nicholas Mitchinson, Co-Editor-In-Chief of Print and Sports & Activities Executive
Position: Co-Editor-In-Chief of Print and Sports & Activities Executive

Graduation Year: 2022

My Future Goals: Go to Naval Academy

A Fun Fact...