An ultimate ninja with a bright future
Learning to be persistent and driven are vital parts of growing up, and for many high school students, they find that through their relationship with sports. One of Kaneland High School's most diligent and hard-working students demonstrates this mentality through her dedicated mindset within the ninja sport. Senior Anne-Marie Lancaster has been participating and competing in ninja warrior training for over two years and has grown as an individual, both physically and mentally.
Lancaster has always had a very strong dedication to her health and athletic career, starting at six years old when she began swimming, which she then did for almost nine years. Although it was a big part of her life, Lancaster eventually stopped because she wanted to transition entirely to ninja warrior training.
"I stopped swimming a year after I started doing ninja training because I wanted to do it full-time. I had reached a place in my swimming career where I would have to go elite because of how fast I was, and I realized that I didn't want to stop ninja training, so I decided to stop swimming," Lancaster said. "It was one of the hardest decisions I ever had to make but definitely the right one."
Lancaster's ninja warrior career began four years ago when she went to the Ultimate Ninjas Naperville gym during a pro camp, which was an event where professionals from the American Ninja Warrior show came to the gym.
"I had only gone to the gym once or twice before, but I did the salmon ladder which is hard and impressive, especially for a 14-year-old. [American Ninja Warrior] Jesse Labreck came up to me and asked if I had done it before," Lancaster said. "I tried out for the team and got on the elite team, and pretty quickly in the first year I saw a lot of progress in my strength [that I didn't get from swimming]."
Labreck is a general manager at the Ultimate Ninjas Naperville gym and competed in the eighth season of the American Ninja Warrior show. She is not only one of Lancaster's coaches for ninja warriors but is also one of her closest friends within the gym.
"I have known Lancaster for about four and a half years," Labreck said. "I compete with her and have been friends with her and her family since she started coming to the gym."
Through her training at the gym, Lancaster has had the opportunity to meet and grow closer to people she looks up to and who love ninja warrior training as much as she does, such as Labreck.
"My coach is like my older sister, and she is one of my biggest inspirations," Lancaster said. "She's one of the best women in the sport right now. When I met her it was like I was meeting a celebrity, and now she's my best friend."
As Lancaster got older and had been going to the gym for over a year, she not only grew closer with her ninja warrior peers but was also allowed to train at the adult open gym. This was a turning point for her, as Lancaster then faced harder courses and more technical tactics.
"We have a core group at the gym of around six of us [that consists of] my coaches and my teammates. We're constantly training, sometimes on Friday nights until one in the morning," Lancaster said. "They let me train with them while they're preparing for the show, and it converts over to other competitions because we simulate it like we'd be filming."
Although she has not received a call to be on the American Ninja Warrior show, Lancaster still competes in different leagues of ninja warrior training. One of her coaches, American Ninja Warrior Chris DiGangi, started a league two years ago called the Ninja Sport Network.
"[DiGangi] is trying to get ninja warriors training to be seen more as a sport and less as just a competition show, and being in the league these past two years has been my favorite [experience]. Now that we have it, not getting a call from the show feels a little better because the league is just as important," Lancaster said.
Like most sports, there are more than just physical obstacles to overcome. For Lancaster, while she loved doing ninja training, she struggled mentally to overcome her anxiety, most specifically during competitions.
"Ninja warrior is half physical strength and half mental strength. I struggled for a long time with competing. I got really nervous and did not do how I wanted because I was so worked up," Lancaster said. "I eventually broke that barrier and realized it was scary because it's important to me. Ninja training has definitely taught me to be mentally tough and just go for it."
Lancaster's dedication and work ethic is not only seen through her involvement in ninja warrior training but also within the friendships she maintains. One of Lancaster's closest friends, senior Danielle Reinert, has known her for nine years and has noticed the type of genuine person she is through their relationship.
"[Lancaster] is very supportive, dependable and understanding," Reinert said. "She has made me a better person because she always pushes us to be the best version of ourselves."
Other than pursuing one of the world's fastest-growing sports, another big part of Lancaster's life is music. As both a guitar player and a fan of American singer and songwriter Gracie Abrams, Lancaster ultimately hopes to pursue a career within the music industry. After having attended Abrams' concert in February 2022, Lancaster started to truly consider what she wanted to do in the future.
"Going to the Gracie Abrams concert completely changed the trajectory of my life," Lancaster said. "I went to that concert and met someone through my uncle who works in the music industry. She showed me the ropes of music management and planning tours, and it helped me figure out what I want to do when I'm older."
While she hopes to pursue a career in music management, Lancaster hopes to continue to develop her ninja skills and be a fill-in manager at the Ultimate Ninja Gym. Additionally, she not only plans to continue training but also intends to keep it as a major focus in her life.
"I'm just staying close to home for the first year or two [after high school]," Lancaster said. "Depending on where I go after that, there are a lot of gyms around the country, and so I'm hoping to pick a college close to another one."
About the Contributor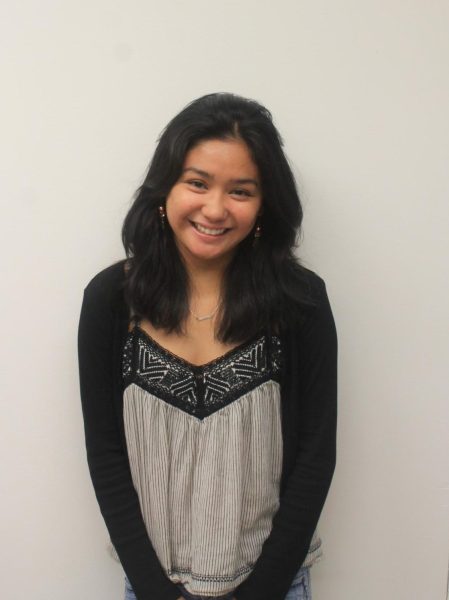 Sela Valignota, Co-Editor-in-Chief of Print
Name: Sela Valignota

 

Position: Co-Editor-In-Chief of Print

 

Graduation year: 2024

 

A few sentences about me: My name is Sela and...