Café 302 Provides Comfort at KHS
      The hum of people talking around you, the scent of freshly made food and the promise of friendly customer service are just some of the things people going to cafés have to look forward to.
     Whether it's due to the scenery of the cafe or the delicious food it provides, these small establishments offer a sense of comfort for most people. Most cafés have special places in people's hearts, and within our own building Café 302 is no exception.
       Café 302, a place where students can order food, is located near the cafeteria. It gives students and staff a small, cozy place with a simple, beige-colored aesthetic and student-made art.
      "The students in the Culinary Café 302 class run the café. To my knowledge, there have been a couple other teachers for the class and many classes who have been able to run it," Café 302 supervisor Fallon Oliver said.
        Many people assume students working at the café get the food pre-made from the school cafeteria, but they actually make it themselves.
       "The students hand-make all of the food. They choose the recipes, inform me on any ingredients we need and then prepare all of the food over a couple class periods," Oliver said.
       The requirements to be a part of the café are simple; you must take Foods One and Foods Two, which is understandable due to how you need to know how to cook and bake.
     Even though the class trains students how to prepare food and serve every day, the service is actually currently only available every other Thursday.
      "We are currently opening every other Thursday during SMART Start from 8:00 a.m. until the start of first period," Oliver said.
     Unlike most classes, students are put in a more authentic work experience. The teacher watching the students appears as someone in charge of a workplace. The teacher grades the students based on how they perform just like a boss observing their workers' behavior.
      "We just get graded on being kind to the customers, how the food is being prepped. Overall, it's just mainly people that were opening up the café, but there are some assignments that we get graded on individually," sophomore Matt Conley said.
      The class can be stressful at times, with customers coming in and trying food that Conley and his team of six produces.
     "When we do open it, the first five minutes, for me, it gets a little stressful because of all the customers but, after that, it becomes natural, " Conley said.
     As a group that has to work together to get a job done, they have grown closer than typical classes.
     "They work together really well to insure everyone has specific duties and work to make sure everyone succeeds," Oliver said.
About the Photographer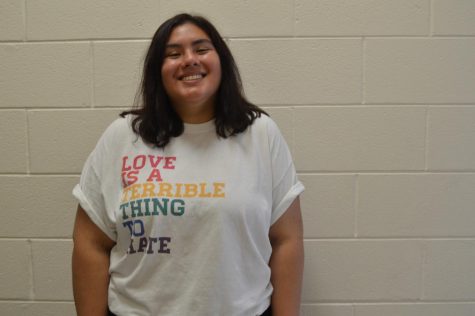 Abril Salinas, Executive: Ad and Business Manager
Position: Executive

Grade:12

Hobby: Reading and painting