Communities Gather for Taste of Kaneland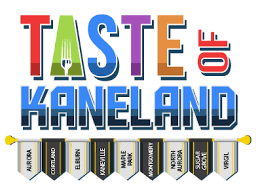 Residents of the 9 towns that make up the Kaneland community came together at Kaneland High School on Sunday, Aug. 25, to celebrate the culture of the unified community. 
There were things to do for people of all ages. There were bounce houses for children and a mechanical bull for all ages to enjoy. Volunteers from throughout the district were serving food for visitors. Local law enforcement and medical services teamed up to provide the community a look at the equipment and the vehicles that they use on an everyday basis. Kaneland also had three pie eating contests for people to compete in. One contest was for kids in elementary school, another for middle school and a final one for high school and above. 
These activities were accompanied by fine art performances including the Kaneland Knights Marching Band, a small group from the summer musical Mamma Mia and many other acts of talent and art. 
"The Taste of Kaneland helped spread awareness of the arts and brought the community together through music and performance," Senior band member Veronica Latka
About 1,300 people visited The Taste of Kaneland throughout the day, which Dr. Todd Leden said was the perfect amount of people. 
"It was nice to see the community come together like this." Elburn resident Christopher Mondi said.
For the moment, the Taste of Kaneland was a one-time event to celebrate the community and a nearly accomplished Kaneland 2020 plan. 
"One piece of Kaneland 2020, part 2C, says to bring the Kaneland School District together into a brighter future, and Taste of Kaneland served as a culminating celebration of the culture of Kaneland, not just as a school, but as a district," Principal Jill Maras said.