Connor Anderson: A Student Who Prepares for His Future
If you have ever thought about your future after high school and realized you have no idea what you want to do with your life, do not worry; that thought is pretty common. Some students, though, have known what they wanted to do since they were young. One of those students is sophomore Connor Anderson.
The Kane County Sheriff's office is not somewhere most people want to spend their time. Its conspicuous front of being a large government building does not look intimidating; however, what may be intimidating is the people inside. While daunting to others, Anderson enjoys spending time there.
"Going to the sheriff's office every other Thursday is like walking into my own house. It feels like family. I am there with the people I know, people I feel comfortable with and the people I like to talk to," Anderson said. "It's just a very great feeling. Many years ago, these programs were not around. I am very blessed to have these programs around me to enhance my knowledge and enhance my life skills." 
Anderson has always wanted to be a police officer, and part of the reason is his past of being a victim of child abuse and having family members who have abused drugs and alcohol.
"My primary objective is to go out into the community years from now and help people primarily with drug abuse, alcohol abuse, domestic violence and juvenile incarceration. I want to teach kids right from wrong without putting them in jail right away," Anderson said. 
You might wonder which program Anderson referred to that he feels grateful to be a part of. Well, he is a part of the Police Explorers Program associated with the Kane County Sheriff's office. For young people, Police Explorers are a way to get involved with the community and help prepare people for a future career in law enforcement. 
According to the Kane County Sheriff's website, "The purpose of the program is to provide young adults who may be interested in a career in law enforcement with a comprehensive curriculum of training, competition, service and practical experiences. Participants develop an awareness of the purpose, mission, and objectives of law enforcement agencies.​"
While he has loved his experience in the program, some people think he is taking it too seriously and should wait. 
"People have stressed to me it's the perfect time to get started in your future career, but some people have stressed that I am starting way too early. I wanted to get my foot in the door as soon as I could," Anderson said. 
Nonetheless, his family has always been there to support him. One of them being his grandmother, Laura DeSilva.
"I have always told Connor that there is joy in serving and helping others. Also, the world is bigger than we are. In the end, it is Connor doing the work, and we are there cheering him on," DeSilva said. 
Similarly, his father, Ryan Anderson, has expressed his support by showing his son the feeling of helping people. 
"I have supported Connor by showing him what it is like to do things for others and the gratification that comes from doing things for others," Ryan Anderson said.
Not everyone sees volunteering as fun, but it helps a community come together. Currently, he is active in the Elburn community. On the popular weekend of Elburn Days, Connor Anderson, a Lions Club member, is preparing for the weekend, helping serve food and cleaning up.
"I currently serve on the committee for the Elburn Police Department, the task force committee, and I am also a five-year volunteer at the Lions Club," Connor Anderson said. 
Besides in the local community, Connor Anderson is in the service and leadership club at school known as Key Club. He is running for president of the club for the upcoming school year.
His father believes that his selflessness and his involvement in his community come from his DNA. 
"I think Connor is so wired by genetics [because] his entire family has always been in the service industry," Ryan Anderson said.  
With generations of his family involved in service, he has had some high standards. However, Conner Anderson has shown himself from an early age that he has the right character traits to work in the service industry.  
"From a very young age, Connor has always shown compassion and empathy for others and has always wanted to help those around him," DeSilva said. 
Not many teenagers would volunteer to clean their snow-covered driveway when it snows, and many would talk back when asked by their parents to do it. Nevertheless, Connor Anderson does not think twice about shoveling his neighbors' driveway. 
"Both his father and grandfather started by letting Connor work alongside him performing various outdoor chores. Now, when it snows, Connor is out there shoveling for the neighbors and expects nothing in return," DeSilva said. "He is always concerned for everyone's safety and participates in anything that helps keep the community safe." 
He does not just volunteer, but he also loves to talk to others around him. He has gone through mental health struggles throughout his life, and he has received help from professionals. So, he can understand what people can go through and is here to help. 
"I want people to know that whatever they are going through, I have the ability to help them as well," Connor Anderson said. 
If you are ever looking for someone to talk to, Connor Anderson is always happy to talk and listen about anything, but he especially loves it when it is about law enforcement.
About the Contributor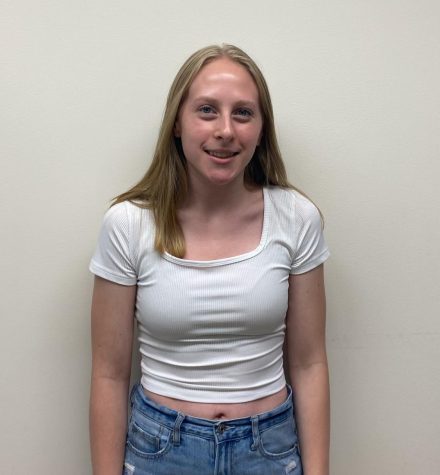 Katie Pfotenhauer, Voices 2 Editor & Columnist Manager
Name: Katie Pfotenhauer



Position: Voices 2 Editor & Columnist Manager



Graduation Year: 2024



A Few Sentences...