Nicole Sreenan: a double sport athlete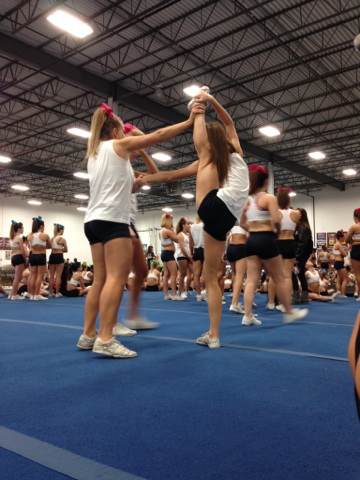 Sun shining, clear eyes, no regrets and no reason to look back. One race is all she had left at the IESA State Track Finals. Nicole Sreenan understood what she had to do.
Sreenan won state in two events last year, the 4 x 100 meter relay and the 4 x 400 meter relay. She also finished in the top eight in the open 400 meter and the 100 meter dash.
"I had to go out there and run like I knew how to," Sreenan said.
Sreenan realized she had a bright future ahead of her in track after track sectionals last year.
"I take a lot of pride in track. I realized that my times at sectionals were good enough to place at state, if not good enough to win state," Sreenan said.
Sreenan's pride shows during practice as well.
"She always pushed herself at practice. I remember her always wanting to run her 400's with the boys to improve her time and try to beat them," teammate Rachel Goress said.
"She pushed us all the time. We were all very close," teammate Lexi Guerra said.
Sreenan is a double sport athlete almost full year round. Sreenan was invited to workouts over the summer to improve on her track abilities for high school. If she is not practicing for track she is at the gym practicing for her Passion cheer squad Sreenan says. Doing two sports at a time can affect her school work.
"Sometimes I don't even know how I do it. I get home with 30 minutes in between each practice in the spring," Sreenan said.
"My practices run from many different times. I get home at 10 p.m. sometimes," Sreenan said.
Sreenan also dominates the mats. She is a flyer on the cheer her cheer squad called Passion.
    Not only are they one of the most prestigious squads in the state, they also go to around the country trips. The Passion cheer squad has attended Louisville, Kentucky and Orlando Florida over the past year.
Sreenan is not only getting exposure from her track finals, but also the cheer team she cheers for.