Taylor Swift's decision to re-record her music
     11-time Grammy-winning artist Taylor Swift has recently put out re-recorded versions of her old albums. 14 years after it was first released, Love Story is playing on the radio again. The early 2010s nostalgia all comes back, but this time it's different because Swift owns the song. What exactly does this mean, though?
     It all started in November 2004 at a small cafe in Nashville, Tennessee. 14-year-old Swift performed three original songs on her guitar, and in the audience sat Scott Borchetta, CEO of Big Machine Records. After her performance, Borchetta knew right away he had to sign Swift. She was the first artist to sign with his newly formed label. 
     Following the signing, over the next 13 years, Swift released six studio albums with Big Machine Records including Taylor Swift, Fearless, Speak Now, Red, 1989 and Reputation. She was a huge success, breaking records left and right and only skyrocketing Borchetta's career and his record label.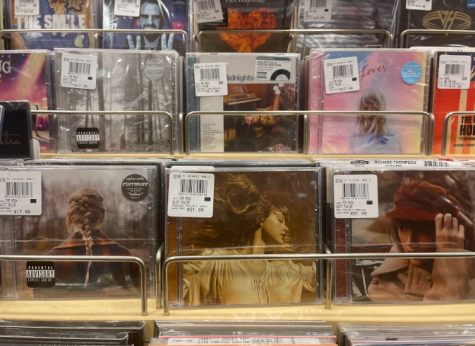 Under this contract, though, Big Machine Records owned all of the master recordings of any music Swift released. So what is a master recording?
     In music, there are two types of copyright. There is composition, which is the lyrics and melody of the song. Then there are the masters, which are the sound recordings that the audience hears on streaming services, CDs and vinyl. The owner of the master recording has the right to license songs for movies, television and commercials. The owner of the masters also gets the majority of the royalties (money) made from people streaming and purchasing CDs and vinyl. So with Big Machine Records, Swift owned most of the composition of her songs, but none of the master recordings. 
     Swift once even said, "Most of your favorite artists do not own their work."
     Indeed, artists like Ariana Grande and Kanye West do not own the master recordings of their songs. This, however, is not a new problem. For most of their career, the Beatles did not own any of their work. Michael Jackson owned The Beatles' catalog of music for some time, and only recently did Paul McCartney begin to reclaim the master recordings of the Beatles' first albums.
     While it is not common for artists to own their masters, Swift said, "I've always wanted to own my music since I started making my own music."
     Once Swift's contract with Big Machine Records ended, in November 2018, Swift announced that she was signing with Universal Music Group's Republic Records. Under the contract with her new label, anything Swift released she would now own the master recording of. However, her first six albums were still under Big Machine Records' control. 
     Then, in July 2019, it was announced that Borchetta sold Big Machine Records for $300 million to music manager Scooter Braun. This included Swift's entire catalog of music that she released with the label. 
     Swift stated on Tumblr after the announcement, "For years I asked, pleaded for a chance to own my work. Instead, I was given an opportunity to sign back up to Big Machine Records and 'earn' one album back at a time, one for every new one I turned in. I walked away because I knew once I signed that contract, Scott Borchetta would sell the label, thereby selling me and my future. I had to make the excruciating choice to leave behind my past. Music I wrote on my bedroom floor and videos I dreamed up and paid for from the money I earned playing in bars, then clubs, then arenas, then stadiums." 
     In August 2019 on Good Morning America, Swift announced that with her new label, she was planning on re-recording her old albums that Braun owned. 
     Swift said, "I just figured I was the one who made this music first, I can just make it again."
     Re-recording her old albums would give Swift complete control over her music. She would collect any royalties made from the songs and would be able to make the official decision to put her songs in movies, TV shows and commercials.
     TikTok user Claudia.zegarra.pe said, "I'm not a huge fan of her music but I really, really appreciate that she's a strong role model for new women generations."
     Swift's contracts allowed her to begin re-recording her old albums in November 2020. After releasing three new albums under Republic Records, in February 2021, Swift announced her first re-recording, Fearless (Taylor's Version). The new version consisted of a new album cover and six additional never heard before songs.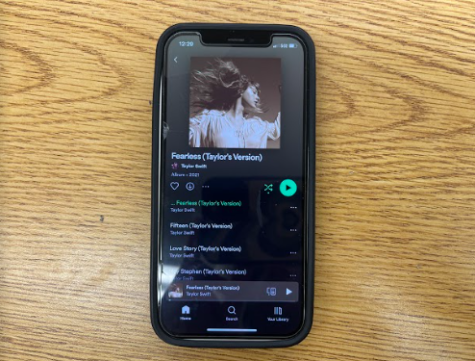 In June 2021, Swift announced her second re-recording, Red (Taylor's Version). The new version consisted of a new album cover and 10 never heard before songs (one being a 10-minute version of the track All Too Well).
     Both re-recordings were received very well by fans and by the world. Once Fearless (Taylor's Version) was released, it quickly knocked the old version off of streaming charts. Off of Red (Taylor's Version), All Too Well (10 Minute Version) (Taylor's Version) (From The Vault) broke Don McLean's American Pie's record for the longest song to go number one on the Billboard Hot 100 Chart. 
     While the old versions of her albums still technically exist, Swift encourages fans to stream only (Taylor's Version).  
     With four more albums to go, the next re-recording has yet to be announced. Swift fans are now left to speculate and wait for the next time Swift decides to make an announcement.