Trainers: The Pillar of Athletics
     Just three minutes after the final school bell rings, student-athletes have already started filing into a medical-looking room. They vary by year and sport, but all have one thing in common: they are there to see the trainer.
     Athletic trainers are healthcare professionals who treat, prevent and help athletes recover from injuries and play an incredibly important role in athletics. Kaneland's own trainer, Maggie Walker, said she has seen up to 40 to 60 different athletes per week this fall, and she typically sees some of those athletes multiple times per week. Among all of these athletes, trainers treat many different injuries.
     "It depends on the sport," Walker said. "With football this year, I'm seeing a lot of shoulder stuff, with basketball, I see a lot of ankle stuff and with track, I see a lot of lower body stuff."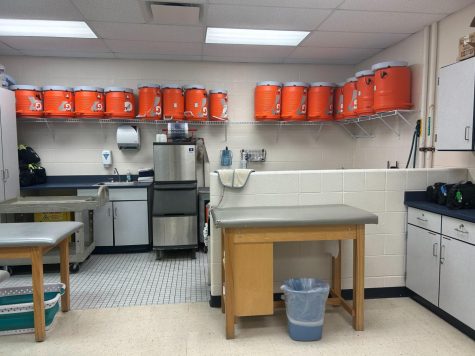 Between fall, winter and spring sports of the 2021-22 school year, Walker wrote 80 student accident reports, which she writes when she refers an athlete to a doctor. The injuries that are not as serious, however, she can treat at the school. Head wrestling coach Kenneth Paoli explained that treating injuries keeps athletes competing.
     "The most important thing is keeping our athletes safe, but when they do get injured, getting [them] back to 100% so that they can compete again [is also very important]," Paoli said. "Without [trainers], I think we'd have kids that would not come back."
     Sophomore cross country runner Evan Nosek gets injured frequently during the season and visits the trainer for help.
     "I find it very helpful when [Walker] is there [and is] able to support my injuries and everything," Nosek said. "Last year during track I had a hip injury and I would come in every day to get it wrapped up."
     Not only do trainers treat injuries, but they also work to prevent new ones.
     "Obviously she treats the kids as they are injured, but I think she does a lot of things with preventative medicine," Director of Athletics & Activities David Rohlman said. "If I roll my ankle a little bit and I just go back in there, I may make it worse, but with [Walker] around, she can help me strengthen that and then probably prevent another injury down the line."
     Working with coaches is an important part of treating and preventing injuries.
     According to the Mayo Clinic, "Athletic trainers also provide a vital communication link between the injured athlete, the physician, the coach and sometimes the athlete's family to determine when it's right to return to practice and competition."
     Head boys track coach Andy Drendel said he works with Walker every day.
     "She's my best friend during track season," he said.
     Last year, shin splints were a big issue for the boys track team, so Drendel and Walker worked together to solve the concern.
     "I saw a lot of shin splints," Walker said. "So me and Coach Drendel got together [and] we created a program."
     The athletes now have stretches and exercises that they can do at practice or at home to prevent new cases of shin splints from popping up.
     "Pretty much the whole team does certain proactive stretches for the shins because with our kids training in the hallways, shin splints are going to happen pretty much for everybody," Drendel said.
     In addition to providing physical care, an important part of athletic training is building relationships with athletes. 
     "I think that [Walker] does a really good job of building relationships with our student-athletes so she has a very good idea of what kids need to be seen for what reasons," Rohlman said.
     Walker agrees that positive relationships with athletes can be helpful.
     "I think as long as kids trust me with what I'm doing, I can help them get back sooner," Walker said.
     A couple of years ago, Walker treated an influential athlete who she still talks with.
     "At my other school, I had an athlete who water skied outside of school, but she was a cross country runner, a basketball player and a softball player," Walker said.
     In her sophomore year, the athlete suffered a big injury.
     "We spent a lot of time together. She's a junior in college now and plays basketball, completely recovered. Her goal was to play basketball in college and we were able to do that and we still touch base and talk," Walker said.
     Having good relationships with athletes can make helping them an emotional experience, especially when having to break tough news.
     "For me, it's always hard telling a kid their season is over, especially when they're a senior or something like that," Walker said. "I hate being the one to break that news to them. It's just the hardest thing possible. There are many times when kids get hurt and it's hard for me not to be emotionally attached to it too. When a kid does get hurt, I find myself almost tearing up."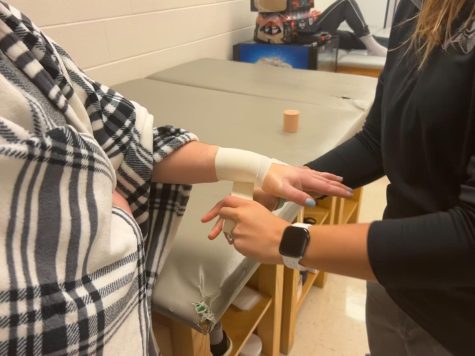 Despite the challenge of delivering unfortunate news, helping athletes is rewarding.
     "Seeing someone [go] from an initial injury and helping [them] build back so that they can be successful in their sport is the greatest reward in this job," Walker said.
     With all that trainers do, between looking out for future injuries, treating current ones and being a friend to the athletes that interact with them, they are incredibly important in the athletic ecosystem. Drendel recognizes how important Kaneland's trainer is for athletes.
     "It's immeasurable," Drendel said. "She's so invaluable, for not just our track kids, but I think if you talked to any athlete and any coach in the building they will all tell you how important she is and what she brings to the table. She does so many little things that aren't noticed by the general population, but the kids see it and the coaches see it and she's really, really good at what she does. Without her, our athletic program wouldn't be anywhere near as [successful]."
     With how important trainers are, it seems like it would be a given to have one in every school. Yet, according to the National Athletic Trainers' Association, only 37% of public secondary schools and 28% of private secondary schools have a full-time trainer. If an injury happens without a trainer present, the medical care falls onto the coaches. If it is so severe that coaches are not equipped to handle it, an ambulance would have to be called. 
     For the fall 2022 sports season, there were 394 students enrolled in athletics at Kaneland. With so many of those students developing an injury at some point, having an athletic trainer is invaluable in sports. Athletes, coaches and especially Walker see this.
     "I think that it's crazy important," Walker said.