Junior Nathan Maras wins Mr. Kaneland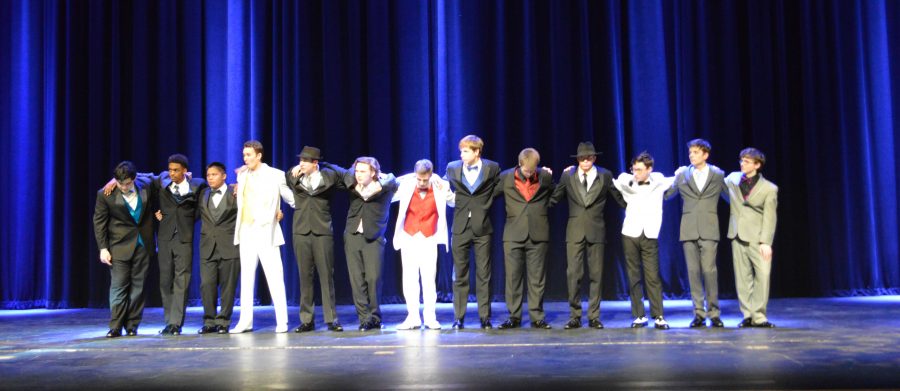 By: Donatela Sommesi, Reporter
February 21, 2017
Every year, male students from all grades at KHS compete against each other in an all boys pageant that raises money for the Kaneland Cares Foundation.
This year, 13 gentlemen joined forces to create an unforgettable performance, crowning junior Nathan Maras in the end.
Not to be forgotten, first runner-up: senior Bryan Zollinger expressed his passion for piano, while second runner-up: junior Josh Herrero brought a thriller act to the stage.
Putting together acts isn't the only thing that goes into constructing Mr. Kaneland.
Sally Wilson, the overseer of this year's event, ordered 650 wristbands in advance of Mr. Kaneland, that were sold by the participants and Wilson herself. A day before the event, wristbands were at a minimal amount. Come the day of the event, wristbands had already sold out.
Each $5 raised from the wristband sales went towards the Kaneland Cares Foundation, which helps families struggling in District 302.
"[Kaneland Cares Foundation] Helps families that live below the poverty line, have people in their family with catastrophic illnesses, and the three families that lost their sons this year," Wilson said.
Not only does money go towards the Kaneland Cares Foundation, but some money is set aside for the Bridget Sweeney Scholarship, which was set in place to send two Kaneland students off to college every year in honor of a former teacher here at KHS: Bridget Sweeney.
Raising over $6,000 from this year's donations and money from wristbands has helped put forth the possibility of greater things for those in need.
Mr. Kaneland isn't just about gaining a title, it's about partaking in an event for tremendous causes.