Explorer program teaches firefighting skills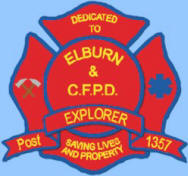 By: Sabrina Sivert, Repoter
October 15, 2011
Ever wanted to be a hero or give back to your community? Check out the Explorer Post program at the Elburn and Countryside Fire Protection District, which allows students ages 14-21 to explore potential careers as fire fighters and emergency medical technicians.
"The post gives Explorers real life work experience and training," Lead Advisor Rob Stevens, who is also a Elburn firefighter and paramedic, said.
The Explorer Post was developed through the Boy Scouts of America and is designed to train young adults to become firefighters and EMTs. Some of the program's accomplishments include fundraisers that produce money for training, gear and other training materials, as well as participation in "HOT Week," which provides hands-on training involving real fire at the University of Illinois. The Post runs community service projects such as roadside clean-up, free blood pressure screening and a yearly donation of time to help the upkeep of a local 9/11 memorial garden.
The program started in the 1980s at the Elburn and Countryside Ambulance Division, when former Assistant Chief Wayne Stevens and current Fire Marshall Allen Isberg developed a mission to train and develop young adults interested in pursuing careers in the field.
Stevens said he wanted to inspire young adults the way his father had inspired him.
"I joined the fire service because my dad was the director of Elburn Ambulance Department when the Ambulance and Fire departments merged in 2001. I grew up idolizing my dad's the willingness and want to strive everyday and make a difference in people's property and lives," Stevens said.
Freshman Elise Fichtel is a participant in the Explorer Post program.
"I like the fact that we get to do real things that a firefighter or EMT does," she said.
The mission statement for the Elburn Explorer Post 1357 is "knowledge replaces fear," and the program strives to achieve that with every training activity they do.
"I feel the fire service to me is not a job or career but a calling," Stevens said.
The department offers students who complete the program the opportunity to possibly become a paid, on-call member of the Elburn Department.
Those interested in joining Explorer Post 1357 at the Elburn and Countryside Fire Department can contact Stevens at 630-365-6855 for a list of orientation nights, which include an initial orientation interview and physical adjuring.