Board Meeting 07.26.21
On Monday, July 26, all Kaneland District 302 Board of Education members were present in person, aside from Bob Mankivsky who joined the meeting virtually. After the Pledge of Allegiance and subsequent procedural steps, Harter Middle School principal Nathan Schmitt acknowledged accomplishments by middle school students from the 2020-21 school year, including Word Masters and track. He was followed by Kaneland High School's Athletics and Activities Director David Rohlman, who proudly spoke of his athletes and their success, both in their respective sports and in the classroom. Then the meeting headed towards the topic that everyone was waiting for: Will we be wearing masks in school this year? Almost three hours into the meeting, the conclusion arrived, and masks will be optional for all students and staff. 
The Board gave the floor to members of the community who signed up to speak during the Public Comments portion of the meeting. Board president Teresa Witt went through expectations for respect before the first speaker came to the microphone. The first five speakers, which included three parents, an incoming freshman and a Maple Park resident who didn't state her relation to the school district, spoke in favor of mandatory mask-wearing. 
"My concern when it comes to making rules about masking in the school setting is that we adhere to the science, and not be guided by emotion or anecdote," Sakina Bajowala, Kaneland parent and board-certified pediatrician, allergist and immunologist said.
This sentiment was echoed by the next few community members. 
"Young, healthy kids can get COVID and can get it bad. It happened to my daughter," Kaneland parent Molly Reimer said. Reimer's daughter contracted COVID-19 at her dance studio. "[My daughter] wore [a mask] but contracted COVID from a maskless teammate, as did many other students and staff at the studio."
Reimer listed all of her daughter's symptoms, which included "all of her hair falling out" and how she is in her ninth month of physical therapy. Her daughter had to quit dancing because "her body wouldn't allow her to do it anymore."
One of Reimer's daughters, Olivia Reimer, quoted the Illinois Department of Public Health (IDPH) and the Centers for Disease Control and Prevention (CDC), and she also shared a short story about her older sister who contracted COVID. "My sister was very, very sick last year, and she's not even my sister anymore. She can't do half of the things we used to do together, and I would not wish that upon any other being in the world."
Each speaker got three uninterrupted minutes with the microphone. Because the same side of the issue had been restated in different ways for the first 15 minutes of comments, Witt asked any upcoming speakers with the same argument to yield their time so the Board and audience alike could hear the other side of the argument. The next speaker decided to yield. She was then followed by five speakers who were in favor of optional masking.
The first person to speak in favor of optional masking was a parent of two Kaneland John Shields students, Jessica Kalal. "Last school year was a terrible one for many reasons. There wasn't much of anything positive to take away from the last school year, except for when it ended," Kalal said. "Meanwhile, my son was receiving speech services as a kindergartener, and he was forced to wear a mask while being in speech therapy. I asked the school if he was able to take his mask off while he was getting speech services, and they said no. How much sense does that make? In my opinion, this was shameful and appalling." 
Kalal continued by saying how during the whole summer, she and her family did not wear masks, and school should be no different. She noted that America is a country where we are free to make decisions for ourselves, and "school should be no different… kids should not be political pawns."
The next speaker, registered nurse Sandy Kalal, expressed gratitude for the vaccine and its availability, and finished with the conclusion that forcing students to wear masks in school is cruel. "There are no guarantees in life… consider the risk-benefit ratio. What are we doing to our children?" She mentioned that today's children's memories of childhood are going to be clouded due to wearing masks and being socially and emotionally distanced during the school year.
Kalal also said that masks have become a largely political issue and mentioned that there are "extreme political views posted on Facebook by someone, or those, that are making this decision tonight." 
The next speaker, a parent of two Kaneland students, said that forcing mask-wearing in school for those who are not vaccinated is discriminatory. "We might as well put a sign on them, saying, 'I am not vaccinated.'" She also noted that her oldest daughter uses a mask as an object to hide behind, rather than as a safety measure.
The following speaker, Maple Park resident and district parent Tonia Groezinger, mentioned her online petition for Kaneland to be mask-optional and that the petition is just shy of 950 signatures.
The final speaker during the initial Public Comments portion of the meeting stated he is neither pro-mask nor anti-mask. His time at the microphone was spent citing different occurrences of maskless situations that he has recently experienced. "I watched my son play tee-ball this summer. Never wore a mask. No complications, no COVID, no anything. But what I did see was tee-ballers playing with masks, that were throwing up, that were exhausted from heat, that nearly passed out, and I watched a tee-ball game that had to be suspended because they were mandating a mask in Sugar Grove at the field," he said. "We make them wear a mask all day long, they wear it all day in school. They walk off of the school property, take the mask off and they play with those exact same kids on the playgrounds. They play with those exact same kids in their houses, they go to the movies, they go bowling, they go everywhere else they want to go, without the masks on when they don't have to wear them." 
Witt thanked the speakers for their comments and for speaking respectfully. She then introduced Sugar Grove resident Jerry Elliott to the microphone. 
Elliott has been living in Sugar Grove for 35 years, and he mentioned financial concerns as a taxpayer and worries about alterations to the Illinois social studies curriculum, including the topic of critical race theory.
The meeting then shifted into the explanation of details regarding the district's Return to Learn Plan. Superintendent Dr. Todd Leden, Director of Educational Services K-5 Dr. Sarah Mumm and Director of Educational Services 6-12 Patrick Raleigh explained that students will no longer need to do their daily self-certification, school staff will continue to clean buildings like they did pre-pandemic (and deep clean when necessary), there will be no remote learning options (unless the student is being required to isolate by a regulatory authority), lunch and transportation will go back to pre-pandemic regulations (although masks are required on buses), there will be free and optional weekly SHIELD testing for any student or staff member who registers, students may use their lockers again and student absence reports will need to provide symptom-specific information. The Board promised to update this plan as needed, and they confirmed that school will resume for students on Wednesday, August 11. 
The meeting continued with the Board having an opportunity to respond to the updated Return to Learn plan, which quickly went right back to social distancing and masking after Board member Jennifer Simmons brought up a specific concern. "This doesn't seem like a layered protection," Simmons said. 
"What's the thinking behind not requiring certain things that, literally, we are being asked to do anyway [by public health organizations]?" Simmons asked. 
"There is daily cleaning of every classroom. What's not being done is the disinfecting. The disinfecting was shown not to be necessary, and it's not required. The daily cleaning was shown to be enough," Associate Superintendent Dr. Julie-Ann Fuchs said. 
Leden also responded to a few other concerns raised by Board Vice President Meg Junk. He said that Kaneland will be following the latest guidance for transportation. 
Kaneland students will be masked on buses, as it is a "crowded place." The recommendation that Kaneland will be following supports this action, although other organizations have their own opinions on what to do regarding buses. However, not even the CDC can force a school to follow their rules.
"So, respectfully, I would disagree. And here's why: I'm not a health expert. So, I called the health experts. I talked to Kane County Health today," Board member Dr. Aaron Lawler said. Lawler added that the health experts he spoke to said that Kaneland is not following any of the things that they recommend. 
Board Secretary Ryan Kerry responded by stating, "That's not what the guidance says."
The two Board members then discussed the definition of the word "should" in such a specific context. Lawler, reading from a paper, said, "The use of 'should' in CDC guidance for COVID-19 prevention in K-12 does not imply that the strategy is optional." He added, "If you do not follow these guidelines, your insurers will not cover you." Lawler went on to list all of the other guidelines that, according to Kane County's official stance, Kaneland would not be following with the current plan of action.
After Witt shifted the topic back to the word "should" and its usage, Leden said, "A director from the Kane County Health Department did say the statement is not a legal opinion… it's somewhere between optional and recommended…the way it's stated there is not accurate." 
School lawyer Maureen Lemon clarified that "[the CDC] cannot direct your school board to do anything. 'Should' is the closest they could get to doing so."
The Board continued the conversation with topics of six versus three feet of social distancing and layered protection. A debate regarding a scenario where our district starts the year maskless but regresses to having to mask up again if outbreaks occur was then raised. A conversation about the value of starting masked up and then progressing to maskless if all goes well came up between Witt and Lawler. 
Although remote learning is not an available option for individual students, Lawler brought up the point that if a whole school gets quarantined, the school could be shut down again, much like we saw on March 13, 2020. Leden confirmed that if this were to happen, the school would need to implement remote learning once again.
Simmons asked if the school would ever be allowed to know and/or ask who is and is not vaccinated. As members of the audience voiced their dissent, Lemon answered affirmatively. "In the event of a close contact, you need to know who is vaccinated or who is not…and that's going to dictate if someone has to go home for that 10-day or 14-day period or not." 
So this year, the vaccine will not dictate whether or not you have to wear a mask, as it is optional. But the vaccine could spare you a two-week quarantine. On that note, Kaneland will not be requiring COVID-19 vaccinations.
Simmons brought up the topic of bullying due to whether or not a student is wearing a mask. Witt and Leden said principals and teachers will definitely expect every student to respect each other's mask-on versus mask-off decisions. Board member Addam Gonzales said allowing students to make their own choice will be a teaching point in their young lives. If you are the only student in the classroom wearing a mask, it's up to you whether or not you'd like to keep it on. Witt and Leden implied that this kind of bullying is the same as any other kind, like getting picked on for your clothing choices; teachers and principals will hold bullies accountable and will support the victimized students.
The time finally came for the Board to vote on whether or not masks will be optional this year. The motion includes the following stipulations: "One, fully vaccinated students and staff do not need to wear a mask while at school; two, all unvaccinated students and staff will be strongly recommended to wear masks at school, but it will not be required; three, all unvaccinated students and staff will be strongly encouraged to participate in the free weekly SHIELD Illinois testing program; four, masks are required for all students and staff on buses, regardless of vaccination status; five, masks are not required outdoors unless specific crowded events would warrant mask-wearing; and six, state, county and district COVID-19 metrics will be closely monitored."
Kerry, Mankivsky and Gonzales all voted in favor of the proposed Return to Learn plan. Lawler, Simmons and Junk opposed. This left Witt with the tie-breaking vote. "I envy people for whom this is very easy. This is not easy for me at all, however. I have certain personal feelings, but I also have faith in our school district. I have faith in our professionals, and I believe that the guidance has been followed in making this recommendation, so I vote yes for the recommendation," Witt said.
After a short recess, Director of Human Resources Dr. Christopher Adkins requested financial support for the greenhouse at the high school, because in such an odd year (2020-21), the money to keep it at its best was not available. The Board voted 7-0 in favor of financial support.
The Board also favored changing "his/her" pronouns to "they/their" in school documents, in an effort to become more all-inclusive to non-binary students. 
Fuchs said the schools are working with all of their software vendors to ensure the privacy of all student data. 
The Elburn Jewel-Osco offered a donation of hand sanitizer and masks with a retail value of almost $23,000 to students and staff. The acceptance of the donation was voted for unanimously. 
New teacher orientation will start next week. Monday, August 9, will be the first day back for staff. 
There were no topics for future agendas.
The meeting concluded with another opportunity for community members to speak. The first speaker was Kaneland parent Kimberly Bartkowiak, who commended the Board for their decision, but asked whether or not if a student is vaccinated stays private. 
Tina Medlin Willson was the next speaker, and she explained her disappointment in the meeting, in the Board and in the Kane County Health Department. She said she wishes less time was spent fighting over words and documents. 
The third speaker asked for future clarification on what happens to quarantined students. Do they get to go remote, or is the quarantining period just 10-14 absences? 
Updates on these concerns and more will be sent to Kaneland families shortly.
About the Contributor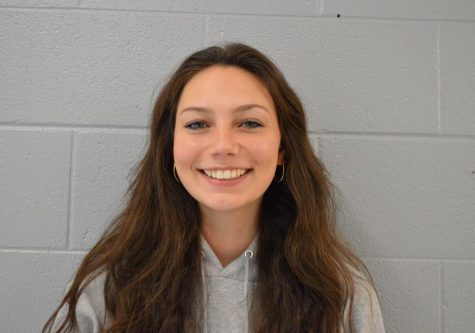 Kyra Motyka, Lifestyle Editor
Position: Lifestyle Editor

Graduation Year: 2022

My Future Goals: I think I will be going to college in Florida and hope to major in communication...