Board Meeting Focuses on Return to Learn Plan
On Monday, June 29, 2020, the Kaneland School Board discussed the current status of Kaneland's Return to Learn plan. Superintendent Dr. Todd Leden explained two possible models of learning for the 2020-2021 school year, as the state is now in Phase 4 of the Restore Illinois plan that is aimed at combating the spread of COVID-19.
One model proposes an A/B learning schedule. Students would be on campus either Monday and Thursday or Tuesday and Friday, based on their last name. Wednesdays would be reserved for on-campus learning for small groups, such as Response to Intervention (RTI) and Individualized Education Program (IEP) students. Masks would be required for the full day, and students would follow strict social distancing rules. Class sizes would be expected to be anywhere from 12-16 students. Buses would have 50 or fewer passengers, and students would need to maintain distance by sitting one per row and in every other row.
The second model is a full capacity setup. This is the more traditional option of the two. Leden described the difference between full capacity and A/B learning.
"Full capacity model, face to face, all students would be able to at least be eligible to return all five days," Leden said.
In this model, students would return to regular class sizes all five days of the week, and they would still be required to wear masks throughout the day. Buses, in this scenario, would be limited to 50 or fewer students as well. 
Kaneland is also preparing for remote learning programs in case there is another wave of COVID-19 this fall, winter or spring. If Illinois goes back into Phase One, Two or Three, complete remote learning will be utilized. Kaneland administrators are working to improve remote learning policies and ideas for implementation as they continue preparing for this coming school year. 
While it is unclear at this point whether or not students will be on campus every day, teachers are projected to be there all five days of each week.
"In both of these models, the A/B learning model and the full capacity, teachers are and planning to be expected to be on site every day," Leden said. 
The 2020-2021 school year will be looking different to everyone this year, no matter what model Kaneland adapts. As time passes and more guidelines are made clear, a plan will be determined by Kaneland's district administration. Board member Ryan Kerry explained his view on the likely response from the community upon hearing the plans that are eventually implemented.
"There's going to be negative consequences no matter what, so parents are not going to be happy, teachers are not going to be, there's going to be an unhappy principle as part of whatever you do," Kerry said. 
About the Writer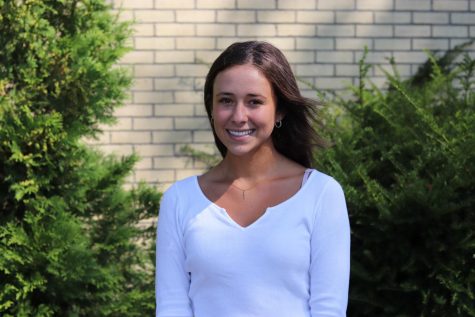 Mia Bergman, Voices Editor
Position: Voices Editor

Graduation Year: 2021

My Future Goals: I want to travel to every continent.

A Fun Fact About Me: I have a Starbucks addiction.

My...