Combat Challenge prepares Fox Valley students for 'mental toughness' of firefighting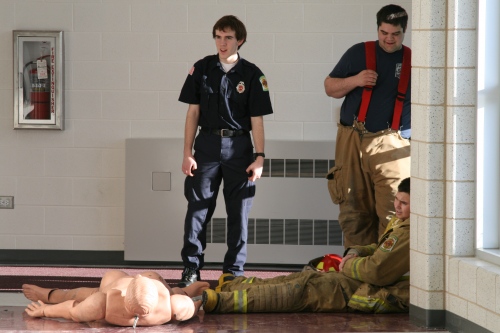 by Jessica Corbett and Katie Vitacco
Reporters
"Drag him by his wrists if you have to!" shouted students in the Fox Valley Career Center's Fire Science class on Feb. 10.
They stood, cheering on a fellow classmate who was completing a strenuous obstacle course. The classmate in question dragged the 200 pound dummy, Randy, to safety.
Some students performing the Combat Challenge wear heavy uniforms, while others wear lighter gear. All carry oxygen tanks and wear masks.
"This is the most challenging thing that I have ever done in my life," Robert Goss, a Sugar Grove firefighter and '08 Kaneland alumnus, said. Goss took the fire science courses last year and returned to assist the class.
Mental toughness is essential in the career of a firefighter, according to instructor Gary Baum. He offers the Combat Challenge to prepare students.
"They need to understand that this is a physically demanding job," Baum said. "They have to be ready for the really bad fires."
The challenge consists of many difficult obstacles, including running up two flights of stairs with a 100 pound bag, which represents the weight of a fire hose. Participants also struck and attempted to move an iron block three feet with a sledgehammer, which started to bend from the heavy blows.
"The sledgehammer drill really tests your physical and mental strength and endurance," junior Alex Mollohan said.
Last year alone, 115 firefighters lost their lives doing their jobs, Baum said. Fifty percent of those deaths were caused from heart attacks as a result of physical exertion.
"The best thing is that they complete the course and they understand their limitations," Baum said.
"You need a lot of physical strength," Jim Kambell said.
To successfully complete the challenge, male students had to run it in less than seven minutes, while female students had to complete it in less than 10.
Adam Smith, known as "Smitty," said the course was a challenge. He had trouble with the last obstacle, pulling the dummy Randy down a hall. He finished with a time of 4:58, stripping off his heavy equipment and breathing heavily afterwards.
Senior Erika Hight did not complete the course, stopping as she was dragging the dummy down the hall because she simply ran out of energy. She said she would only do it again if Baum made her.
"By far, [the challenge is] harder for girls than for guys," Hight said.
She lay on the floor afterwards, her face beet red and breathing heavily.
"I really want my students to understand the toughness of Fire Science," Baum said.
Contributing: Sarah Arnold, Collin Benson, Zach Brown, Maria Kernychny, Sam Komel, and Nick Sbarbaro.