Marklund holds 10th annual 5k fundraiser
     On Sunday, Oct. 16, 2022, Marklund, an organization that supports individuals who have profound disabilities, hosted its 10th annual 5k fundraiser. The fundraiser took place at Marklund Hyde Center in Geneva. 
     At Marklund, there are three residential programs, a day school and community day services, which are day programs for adults with disabilities. 
     Individuals of all ages and abilities were able to come and participate in the race. Many participants ran in honor of friends or family members who are residents or students at Marklund.
     Tom Meersman was a race participant at this year's 5k. He ran in honor of his son Reed Meersman, a student at Marklund.
     "It's a special 5k. We have done other races, but this one is near and dear to our heart because it goes to such a great cause," Meersman says.
     Through the 5k alone, Marklund has been able to raise $700,000 in net revenue. 
     Marklund Chief Developer Heather Graves oversees all fundraising activities that happen at Marklund.
     "[The funds] go straight to [Marklund's] residential programs," Graves said.
     Many people make the 5k a big family affair. 
     "We get the whole family, extended family and friends and we make a big event of it," Meersman said. 
     The race is very inclusive when it comes to who can participate. 
     "Anybody [can participate]. We have strollers, we have wagons, all the way up to wheelchairs. We really want to make it an all-inclusive event," Graves said.
     Some people come to run in this race for fun, and raising money for an amazing cause is a nice bonus. Angela Jackson was one of these people. 
     "I did the Dick Pond [Walk2Run] program and this was our graduation run," Jackson said. 
     Not only is this an amazing opportunity for Marklund, but there are also different non-profit organizations that come to volunteer. Earn With a Purpose is one of these organizations. Their goal is to provide employment opportunities for individuals with diverse developmental abilities.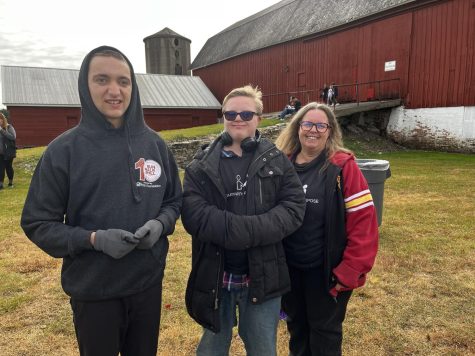 Sharlene Mielke and her son Tyler Mielke are two of the people involved in Earn With a Purpose who were also volunteers at Marklund on Sunday. 
     "It is an awesome organization. [Marklund] has a beautiful campus and it does incredibly wonderful things for people with special needs," Sharlene Mielke said.
     Tyler Mielke said that his job was to have fun, and he did. 
     This is not Marklund's only fundraiser of the year. They also host three others: a second 5k, a Gala in February and a golf outing in June. 
      Marklund also has many different volunteer opportunities for people of all ages.
     If you or someone you know may be interested in one of these opportunities, go to marklund.org for more information.