Recent Elburn Christmas Stroll unites the community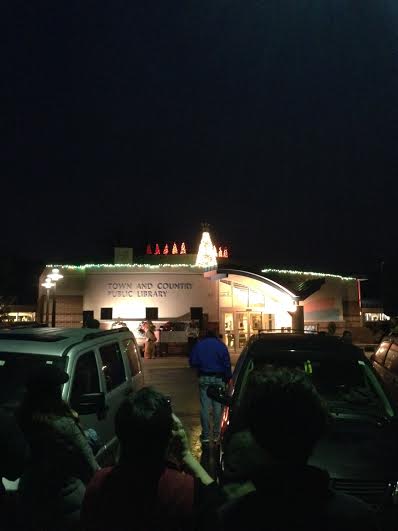 By: James Leach, Reporter
December 3, 2014
Bright lights, hot chocolate and nice people, the annual Elburn Christmas Stroll is an opportunity for a family to get out into the town and experience the good spirits, and holiday cheer.
This year was the 20th annual stroll and occurred on November 29th from 4:00 p.m. to 8:00 p.m. and is under new committee leadership. Ben Westfall and Kristin Paxinos, owners and instructors of DaCapo Music studio, took the job of setting the stroll up and running it.
"We feel that this year will have a great turnout," Westfall said.
And it was. Many Elburn community members showed up to participate in the tractor rides, s'mores and the light show at the library.
"We consider the library as the centerpiece of the stroll," said Westfall
The library had a puppet show, a live performance by Westfall and Paxinos, Santa and Mrs. Claus, a balloon man and the light show.
"This year, Brian Larsen the owner of the Larsen house set up the library for a light show," Westfall said.
Every year people show up to visit Santa at the library, and they have an all around good time. This year there were some new additions. The Corner Grind coffee shop had a cookie and cocoa stand outside of the building, along with many other businesses.