Student Council Meeting (08.25.21)
     On Wednesday, Aug. 25, in room A225, Kaneland High School's Student Council had its first official meeting of the 2021-22 school year.
     Members discussed many topics at this meeting, including introductions, Homecoming plans and fundraising. 
     Student Council Executive Board roles include the president, vice president, secretary, fundraising chair, publicity chair, co-spirit chair and co-Homecoming chair. Science teacher Sally Wilson and English teacher Joshua Maurice are the two Student Council sponsors, but Maurice could not attend the meeting. 
     Board executives and Wilson led the meeting. Most of the students in attendance were freshmen or sophomores. While many students attended the meeting, there is concern about who will stay in Student Council for the entirety of the school year.
     Sophomore Jessica Wrobel, a new Student Council member, said she is very good at art and is creative, so she would help a lot with decorating.
     "I really like the idea of being involved, and I'm pretty artsy, so I thought it would be cool to become part of the Homecoming Committee and design things," Wrobel said.
     Student Council had its first fundraiser the day after the first meeting on Thursday, Aug. 26, at a local pizzeria, Paisano's Pizza and Grill, at their locations in both Elburn and Sugar Grove. Student Council is one of the few clubs where students do not need to pay a membership fee. They are a service organization, so they need these funds from fundraisers to continue providing services to the school and to keep doing events like Homecoming, Mr. Kaneland and more. They plan on doing a fundraiser every month this school year. 
     This year's focus for Student Council is to have as much spirit as possible and to show the students what it means to be a Knight. With many students not knowing what true Kaneland spirit is because of COVID or because they are new students at the high school, they have plans to decorate hallways, have spirit weeks, come up with themes for football games and sell spirit boxes. 
     Planning events is a top priority in Student Council, and Homecoming is coming up. This year's theme for the dance is Starry Night, with the spirit week going along with that theme. The dance is Saturday, Oct. 2. Leading up to the dance is the Powderpuff game, Homecoming football game and parade, which will be held this year in Maple Park. 
     Wilson loves to do everything from planning events to leading meetings, and she enjoys getting to know students outside of the typical class setting. 
     "I love planning events, and I know that we plan a lot of events for Student Council. I like doing service projects, so I felt like it would be a good fit, and I still love it today as much as I did when I started sponsoring Student Council 15 years ago," Wilson said. 
     The president of Student Council, senior Olivia Fair, said that this year is going to be great with a large group of students.
     "I think it's going to go very well because we have a group of strong, committed and excited people who are here to make the school a better place," Fair said.
About the Contributor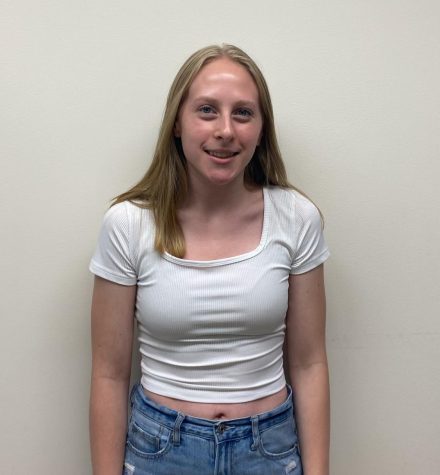 Katie Pfotenhauer, Voices 2 Editor & Columnist Manager
Name: Katie Pfotenhauer



Position: Voices 2 Editor & Columnist Manager



Graduation Year: 2024



A Few Sentences...