Students and community members share concerns at school board meeting
By: Caitlyn Rawers, Dylan Mondi, Editors
December 17, 2015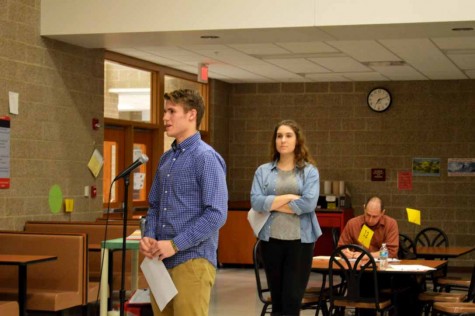 On December 14, discussion regarding the situation between the Kaneland Education Association (KEA) and the school board continued at the school board meeting. The public is growing more troubled about the disagreement. Dave Wagner, a community member, said during public comments that he is concerned that five of the teachers who taught his first grader and/or fourth grader have left Kaneland.
Kaneland seniors Mitchel Groen and Bailey Crimmins both asked the board for an agreement before the negotiations escalate. They brought attention to how a failure to compromise would effect their educational opportunities as well as future college plans.
Parents in the community are starting to realize the effect of the loss of teachers in the district.
"It shows that our children are not as valued as in other towns," community member Michael Brumbaugh said.
Among the other commenting were KHS students and teachers.
"You [the board] are taking a stubborn, obstinate stand against arbitrary numbers," high school teacher Tim Larsen said.
Larsen continued to go over the board's budget since 2010, noticing the flaws in the report, mainly that the board overestimates expenses.
"You claim to be good stewards of the taxpayers money. I respectfully disagree," Larsen said. High school teacher Javier Martinez came as a community member, not solely as a teacher.
"The best organizations attract and retain the best people. This district isn't," Martinez said.
One of the most significant parts of the meeting was the lack of an audience. Teachers have been regularly attending the meetings this fall, but this meeting had a significantly smaller attendance.
John Stewart literacy coach Linda Zulkowski read a Daily Herald article from April 13, 2010 that described the cuts that the school board had to make. She said that KEA members were not at the meeting because they had already said everything they could, but felt everything they were saying and their public comments were "falling on deaf ears."
Other topics of discussion was the 2015 Tax Levy, the 2016-2017 school year calendar and the proposed projects for repair in the district, including the KHS tennis courts.
The next negotiation meeting between the school board and KEA will be on December 17. The board would like to reach an agreement with the teachers as soon as possible.