Guide to Surviving Lollapalooza
Stay Hydrated
     Standing in the heat, surrounded by thousands of people while dancing and singing along with your favorite artist might make you break a sweat. It is very important to make sure you are hydrating your body and replenishing all the water you are losing. Investing in a camelback makes your experience a lot more fun. Camelbacks are backpacks that can be filled with water, so you do not need to worry about refilling your water or dropping it in the crowds.
Eat breakfast & snacks
    Standing all day in the heat, and jumping to your favorite song takes a lot out of your body. Eating a good breakfast before you go will hold you over and help you keep going all day, so you can make it to your favorite headliners performance. There is also a 'Lolla Bodega' where you can stop to grab a granola bar, or cup of fruit as a snack to bring into the crowd with you!
Wear sunscreen
    There's nothing worse than getting sunburnt the first day of the festival and having to deal with people pushing up against the fresh burn the next day. Applying SPF can help not only protect your skin but can also save you from harmful diseases later on in life.
Keep a poncho in your pocket
    Of course check the forecast before you go, but Midwest weather can change up fairly quickly. Always be prepared for a chance of rain. You do not want to be stuck in wet clothes all day and night.
Bring a charger
    Investing in a good, long lasting charger is best for any concert. With the summer heat, and bad service, phones tend to die faster. Fix your problem with a portable charger that you can use on the go at any time. Having a dead phone is never good in big crowds.
Dress for style but also comfort
    Festival fashion is like no other. Look cute, and stylish, but make sure to choose an outfit you feel comfortable in and will not be a worry. Choose a pair of closed toe shoes, stylish sneakers are a good compromise like Adidas Allstars.
Hotel
    Hotels in the city are already overpriced, and when Lolla weekend comes around the prices go up even more. If you can afford it choose to stay in a hotel. I have experienced both staying in a hotel and taking the train down every day- hotels make your weekend a bit less stressful. Get a group and split the cost, opt for an airbnb, which tend to be on the less expensive side.
Leave for lunch
    The Lolla owners allow you to leave and re-enter up to three times a day. If the option is there, head down the street and get Subway, Panera, Potbellys, etc. for lunch. The vendors have good food, but their prices are not as affordable.
Utilise your lock screen
    Setting your lock screen as a screenshot of your notes page with a friend's number and your name will make the lost phone easier to return to the owner. Every year hundreds of phones are lost or stolen, and this simple act can make it that much easier to get it back.
For ladies & gents with long hair; put it up!
    There are a lot of crowds and it can get tight, especially for headliners and other popular artists. Having your long hair get stuck in between people and pulled is something I would try to avoid. Wearing your hair in braids, or in a ponytail decreases the chances of a harsh hair pull.
Use Lolla cashless
    Lollapalooza offers a feature to connect your credit card to your single day or 4 day wristbands. All you do is activate your wristband and hook up your card through the Lolla website. Doing this lowers your chances of losing cash or a credit card, and makes purchasing things faster and easier.
Know your menu options
    The food court in the festival is a long street, and there are a lot of options. All the vendors advertise their menus on Lollas website and in the Lolla app. It's categorized by dietary restrictions too, so it's easy to find things for gluten free, vegetarian, or vegan diets. Make picking your lunch or diner faster without having to walk up and down Chow town by knowing your options first.
Don't ignore the vendors
    Allow yourself to walk around and see different vendors, and organizations. Lots of charities and companies give out pins and other unique handouts. Some charities have petitions to sign for things like equal rights, protest on animal enclosures, and environmental issues. They are cool to see and hear what people want to change.
Make a schedule
    Unfortunately the artist lineup does not always line up. Since there are so many stages sometimes two artists you want to see are scheduled at the same time. Make a game plan, and plan with the people you're going with on who you're seeing each day, at what stage, and what time.
Familiarize yourself
     Grant park is big, and with a ton of different stages it's easy to get lost. Keep a map of the venu, and go a little early to familiarize yourself with the atmosphere.
Do not push to the front
    There's nothing more annoying than standing in the sun all day to get a good spot at the stage your favorite artist is playing at and having someone push past you who just got there. If you want to be up close get there early and hold your spot.
The buddy system
    If you are going in a big group, pick one person out of the group to be your buddy for the weekend. Share your location with this person (and the rest of your group), and never go anywhere without them. There are so many people at the festivals it's too easy to turn your head and lose your group, so get a buddy and stick with them!
Have a safe spot
    Unfortunately in this world, big crowds can attract scary scenarios. Talk with your group before you go, and think of a evacuation plan and a safe spot. Your safe spot should be outside the festival, close enough to get to, but far enough from any possible chaos. A Panera Bread, Starbucks, or Dunkin' that is at least a block away from the festival grounds is a good option.
Rest your body
    Find a shady tree, or picnic table and take a break in between the artists you want to see. Whether you are going four days or one day, standing all day is hard and your body deserves a break; it is okay to take a break, you can still hear the music and people watching can be fun at a place like Lollapalooza!
Live in the moment
    Music is a beautiful thing, and a festival as big as Lolla bring so many music genres together. Get to know smaller bands and soak in the experience of seeing artists you listen to. Put your phone down and do not worry too much about what your followers are seeing, focus on what you get out of the experience.
About the Contributor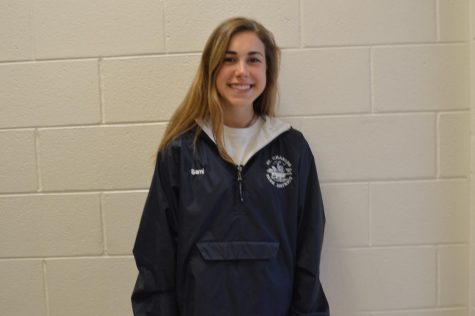 Sami Callaghan, Executive
Ad and Business Executive. Class of 2020.