Tomorrow X Together – Minisode1: Blue Hour | Review
     In 2020, the South Korean boy group Tomorrow X Together (TXT) released their anticipated mini-album titled Minisode1: Blue Hour. It followed their Dream Chapter album series, which depicted the growth of a teenager through their perspective and was written and recorded entirely during the COVID-19 pandemic. This mini-album narrates the emotions of a teenager who goes through personal and societal changes in their life and was released to transition into the band's next series, the Chaos Chapter. With five songs spanning three main genres and songwriting participation from all five of the members, it was well-received by critics and fans alike. 
     The album opens with Ghosting, a ballad mixing indie rock with 80s nu-gaze that compares the lonely narrator and someone who disappeared on them to ghosts. Written by band members Soobin Choi and Taehyun Kang, the nostalgic upbeat nature of the music and husky vocals creates the feeling of a daydream coming to life.
     "In this song, we express the confusion and disheartenment of a boy who has become cut off and isolated," Taehyun said in an interview with ELLE Magazine. "The person he has been talking with stops responding and he wishes they would come back."
     The song addresses a situation that most people go through, especially teenagers like the five members of TXT, and sounds like a teleporter to memories of the past. It serves as an enjoyable introduction to the album's concept of change and adolescence as teenagers struggle to navigate their youth.
     The title song Blue Hour is a retro disco song with a bright tempo and melancholic lyrics. The Korean title translates to "You and I Found the Sky at 5:53," which is the time that the October sun sets in Seoul. The blue and orange colors of sunsets are used metaphorically in the song as moments in your life you can only imagine had lasted forever. As the lead single from an album released during the pandemic, Blue Hour expresses the feeling of needing someone you lost in your life while hoping that nothing has changed between you and them.
     "Even though we may feel solitude in these times, we will continue to hope we still feel the same way as one another," Soobin told ELLE magazine when discussing the overall message of the single. The blue hour is also known as "the hour between dog and wolf," a time when it becomes hard to distinguish one's surroundings. This concept of unfamiliarity when in familiar surroundings relates heavily to the COVID-19 pandemic when life was flipped upside down for many people. As the song is one of hope, most clearly shown by the up-tempo beat, it has an enthusiastic tone that almost reassures you that everything will be okay.
     The teenage perspective of the mini-album shines brightly in the third track, titled We Lost the Summer. Following the theme of bright songs with despondent lyrics, it was mostly inspired by how the lives of teenagers changed when the pandemic hit. 
     "COVID-19 has completely changed our lives, and we wanted to tell a story that only we could tell in this moment," band member Beomgyu Choi said in an interview with Teen Vogue Magazine. "We Lost The Summer represents this sentiment. Many teenagers could no longer go to school and hang out with each other, passing notes, sharing earbuds and so on. It's our story but it's still a subject that teens all over the world can relate to."
     We Lost The Summer has also been revealed to be inspired by Arcade, a 1998 track released by South Korean girl group Han's Band that retells the 1997 Asian financial crisis with upbeat music. Beomgyu and Taehyun lament the difficult situation, singing, "Our clock, which has lost the weather, stands still in winter /  'Cause we lost the summer when we lost each other," in the lyrics before the second chorus. It is easy to envision an empty classroom meant to be filled with people and friends separated from each other when listening to the lyrics, reflecting the reality of the pandemic.
     The cheerful sound of the album comes full circle in Wishlist, an uplifting song about someone wanting to give a gift to their lover. Described by the group's youngest member Huening Kai as "refreshing pop-rock," the message is just as simple as the subject.
     "In this song, we struggle about what birthday gift to prepare for a special person. Many people must have been in this position before," Kai told Teen Vogue. 
     A sunny and energetic song like this is an appreciated addition to an album full of songs with sentimental lyrics. Even in a world going through major changes, the little things can always mean the most.
     The closing song of the Minisode is a future rhythm and blues track named "Way Home." Contrasting the rest of the album, it has a somber melody to which the group members sing of loneliness and uncertainty in voices dripping with honey. In an interview with the Grammys reporter Ashlee Mitchell, member Yeonjun Choi spoke of his love for the future R&B genre and how he hoped to keep working with the genre going forward. 
     The sound marks a departure from the typically upbeat and youthful songs that TXT usually makes, signifying a change occurring in the group's theme. It's not to say that they won't continue releasing that type of music, as Yeonjun said in the interview with Mitchell. 
     "These stories are one continuous narrative of growth and change, which I hope has been and will continue to be relatable and comforting for fans and further audiences," Yeonjun said. "It's what we strive for as artists: to grow and to be able to console and empathize."
     Minisode1: Blue Hour tells the story of a teenager grappling with their emotion-filled coming of age while living in a changing world. It discusses the topics of being lost and aimless, while still maintaining the sound of hope for things to get better. It's an album that heavily relates to how many people felt during the pandemic and isn't something that only one age group can enjoy. Growth, change and acceptance are common in the lives of people of all ages, and Minisode1: Blue Hour by TXT puts it all into words.
About the Contributor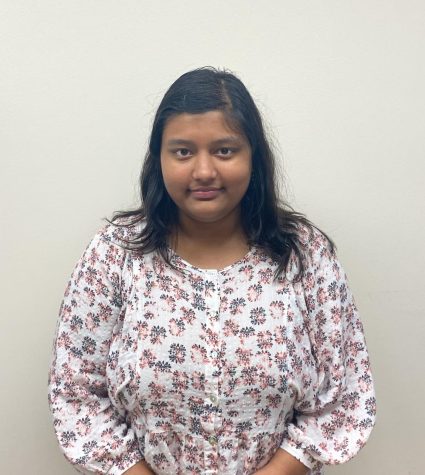 Rafika Khan, Opinion 1 Editor
Name: Rafika Khan



Position: Opinion 1 Editor



Graduation Year: 2024



A Few Sentences About Me: I love art, music,...