From Gymnast to Freshman Varsity Tennis Player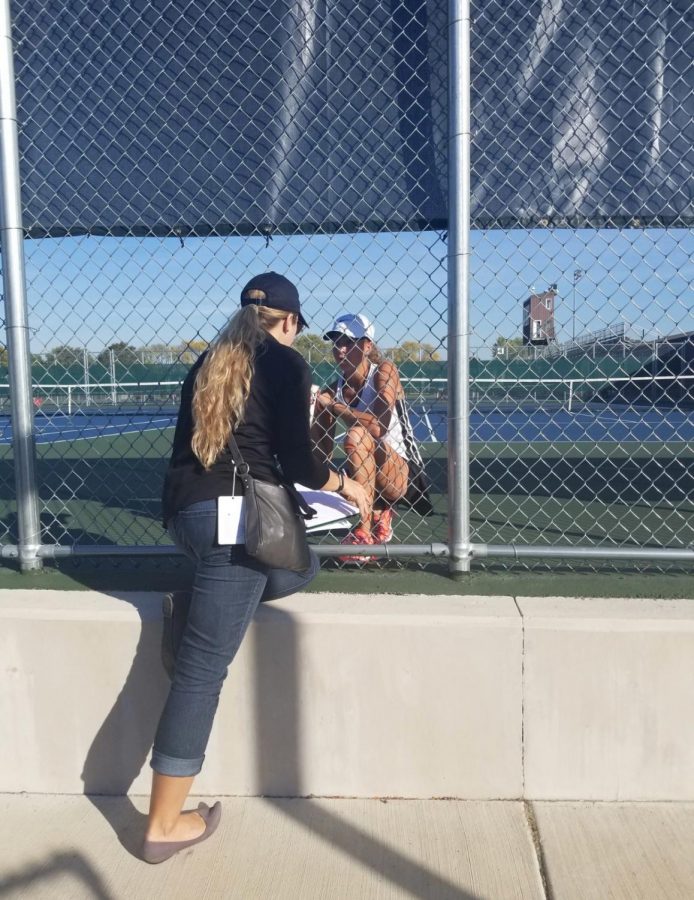 By: Elizabeth Elliott, Reporter
February 19, 2018
Before joining tennis, freshman Piper Schrepferman was a gymnast and the transition from gymnastics to tennis was a big change for her. To start her transition, she decided she would start hitting tennis balls with her sister during her free time. From there, she kept on playing and doing gymnastics until she finally quit gymnastics to pursue tennis full time.
"She [Piper] quit gymnastics as a top ten gymnast in the state for her age group to play tennis. At that time, she only had 12 hours of tennis instruction. It was a leap of faith but she was so convicted in her decision. Her father and I gladly supported her," mother Karen Schrepferman said.
Before games or performances, its normal to be anxious about what is to come, but for Schrepferman, its not the same story.
"Before every match I have a warm up routine for stretching and getting warm. I don't really get nervous before matches because really used to the environment of tournaments so that doesn't affect me," Piper Schrepferman said.
Since Piper Schrepferman is now playing on the high school she has her dreams set on playing in college.
"My main future goal is to get a scholarship to college either D1 or D2 for tennis and play on their team all four years of college," Piper Schrepferman said.
Piper Schrepferman's freshman year has been way more exciting than most. Since she was on the varsity team she was able to go all the way to state and make it into the top 16 players.
"Considering I'm a freshman and was on varsity and made it state it's been amazing. I'd say that's pretty cool. I was so excited to be on a team with these wonderful ladies and couldn't have asked for a better year," Piper Schrepferman said.
"Well my personal coach, Karl Peterson, has taught me everything I know about tennis and he has encouraged me and pushed me to the limit which is fantastic. I would not be where I am if he wasn't my coach," Piper Schrepferman said.
Confidence is key, but Piper Schrepferman has had her moments to where she has wanted to give up. "There have been times when I wanted a break but after one day without tennis I miss it and want to go back." Piper Schrepferman said. "What inspired me was my sister because she never gave up and now she plays on the team at Grand Valley State."
Mallory Stoffregen had the amazing chance to not only watch her play this year but the chance to coach her.
"It was not hard to coach Piper, because she is already so polished and prepared to do well on the court. Often times, I would tell her what she needed to fix, and she already knew and already had a plan for making the change. Mostly, it was about keeping each other emotionally level during difficult matches," Stoffregen said.
Taking a big step forward in life will lead to success if a person has enough dedication to what they are involved in.
"I would like to tell myself that I did the right thing by quitting gymnastics because back then I was so afraid that I made the wrong decision but looking back today I know that I did the right thing," Piper Schrepferman said.