Knights successful in their first home game of the season
     On Thursday, Sept. 9, the varsity volleyball Kaneland Knights beat the Ottawa Pirates in a quick and clean match. Their first game ended at 25-12, and the second game final was 25-16.
     Leading the offense were seniors and outside hitters Bella Rio and Madison Buckley. Both girls and their senior libero, Mackenzie Ewen, kept the team's defense sharp as well. Buckley has committed to Ball State University for volleyball.
     Ewen is new to Kaneland, and she is playing libero this year after being an outside hitter at St. Francis. The Knights are very happy to have her.
     With very few missed serves and hits, the Knights were efficient on the court. Rio and Buckley continuously found uncovered spots in the middle of the Pirates' defense. 
     "I'd say Bella Rio [was the MVP of the game] because there was a lot of junk thrown over the net, and she found a way to score and get it back over the net," Buckley said. "I think she did a really good job."
     Junior setter Mia Kane agreed that Rio played an especially important role. 
     "[Rio] did a really good job placing the ball and got a lot of kills," Kane said. 
     Ewen added that Rio's energy helped carry the team throughout the game. Along with being the teammate-decided MVP, Rio is one of three team captains. The other two are Buckley and senior setter Meghan O'Sullivan. O'Sullivan has committed to Grand Valley State University for volleyball. 
     "I think [the team captains] are doing a really good job so far, especially keeping the team all together and coordinated," Ewen said. 
     O'Sullivan, Buckley, Ewen and Kane all agreed that there was a bit of a division in the team as of last week, but due to the strength and dedication of the players, it was resolved with a simple activity.
     "We all came together in the locker room and we all wrote down some goals that we have as a team. Just some positive reinforcement on the whiteboard," Buckley said. "I think that's my favorite part of the season so far."
     The Knights volleyball program has always been good about goal-setting and its importance on and off the court. The varsity players this year are most excited to achieve one goal in particular. 
     "Our biggest goal is to get to State," O'Sullivan said. "I feel like we all know that we have little goals for ourselves that we need to accomplish, but we need to work together to get to State."
     Although O'Sullivan's personal goal was to become a better leader, others say that she has already done so. Head varsity coach Cynthia Violett said O'Sullivan has stepped up to lead the team the most.
     "Honestly, I think Meghan O'Sullivan has come out of her shell finally and stepped up," Violett said. "She started talking, she started leading the team, and I think that's made a huge difference out there, because your setter [has to] be that leader." 
     Violett's goal for this season is the same as the girls'. 
     "Win conference, win Regionals, and go to State," Violett said.
     Through Violett and her team's help and support, newcomer Ewen has felt most comfortable being a new Knight. 
     "I'm in a much better place than I was before, and I'm enjoying my time here at Kaneland," Ewen said. "I haven't struggled too much because I've had my club teammates that brought me into their friend group and basically introduced me to a lot of new people that I have now become really close friends with… I'm much more in my element here."
     Kaneland volleyball parent and fan of six years Jean O'Sullivan said that she and her family knew volleyball was more than just a hobby for Meghan when she stopped complaining about practices. All three O'Sullivan kids, including Meghan and her two older brothers (now graduated), have played varsity sports at Kaneland and went on to play in college. The O'Sullivans are very well-versed in collegiate-level recruiting.
     "Find a college that if you take out your athletics, you still like the school and it has lots to offer you," Jean said. "Find a school that you really like and are comfortable at, so even if you weren't to play your sport, you'd still be happy there."
     The Knights' varsity volleyball team is 10-1 this season and has plenty of talent to make this a memorable year. The team next takes the court at home on Monday, Sept. 13, as they take on Marian Central Catholic.
About the Contributor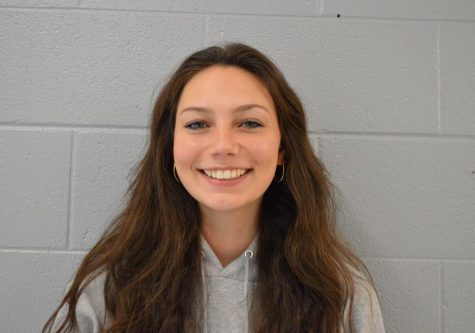 Kyra Motyka, Lifestyle Editor
Position: Lifestyle Editor

Graduation Year: 2022

My Future Goals: I think I will be going to college in Florida and hope to major in communication...