Varsity boys basketball team's memorable season
The Kaneland varsity boys basketball team finished the 2022-23 season with a record of 26-6, with that win total putting them in a tie for the school record. Those 26 wins included a 14-0 first-place finish in the Interstate 8 conference. This took a lot of passion, dedication and effort from the team.
Prior to this year's varsity team winning 26 games, only the 1961-62 and 1981-82 teams had reached that win total. All of the players on this year's team played significant roles in helping the team achieve this milestone, including senior guard Johnny Spallasso.
Spallasso left a mark on the team for his role on both offense and defense, where he was typically asked to guard the opposing team's best player. A natural leader to his teammates, Spallasso was named a first-team All-Conference member. He also spent his fall season as a wide receiver and cornerback on the varsity football team, and he is currently playing shortstop for the varsity baseball team.
Spallasso has played basketball for the past eight years, and while he is not continuing his basketball career in college, he has had a significant impact on the Kaneland program. There are many techniques when it comes to being a leader to your teammates, and Spallasso's approach was to lead through his actions.
"I was leading by example, doing everything the right way [to show] the younger guys how things are supposed to be done," Spallasso said.
Another valuable asset to the team this season was junior shooting guard Troyer Carlson. He not only surpassed the 1000-point career scoring mark (he currently has 1002 points), but he accomplished that with one year remaining in his high school career and despite having one of his three seasons cut short due to the pandemic. After this season, Carlson was also named a first-team All-Conference member and was voted by Interstate 8 coaches as the conference's Most Valuable Player. He was also named as a Special Mention to the 2023 Illinois Basketball Coaches Association Class 3A Boys All-State team. Carlson and Spallasso were joined on the All-Conference first team by senior point guard Gevon Grant, and junior forward Parker Violett was an Honorable Mention.
Carlson comes from a family of multi-sport athletes, so it is no surprise that he plays basketball while also putting in the time and commitment to be the varsity football team's starting quarterback. His achievements so far have not only demonstrated his commitment to basketball but to the program as well. Carlson came into high school with a personal goal of scoring 1000 points, which has long been viewed as a milestone number in high school basketball.
While it may have been a successful season from both individual and collective standpoints, Spallasso still critiques himself on what could have been. This shows what kind of competitor he is, one who knows that there is always room for improvement and who does not get caught up in the glory of all the wins.
"Obviously, the first thing you think of when you go back to our season is the number of wins we had. It feels great to have tied the school record in total wins in a single season, but at the same time, it feels disappointing knowing that I was only one game short of having that record all to ourselves," Spallasso said. "Being a part of it was awesome, though."
The athletes' dedication plays a big role in how successful they can be, but none of it can be done without the guidance of a dedicated coaching staff.
Head coach Ernie Colombe recently completed his fourth season as the varsity boys basketball head coach. Prior to taking over the boys program, he was the head varsity girls coach for 13 years. This past season has stood out as one of the more memorable ones from his career.
"It has been a great year. We were undefeated in our conference, which has not been done in a long time," Colombe said. "It was a team accomplishment. Hopefully, the returning players learned that hard work pays off, and setting goals as a team and working towards them as a team is rewarding."
About the Contributor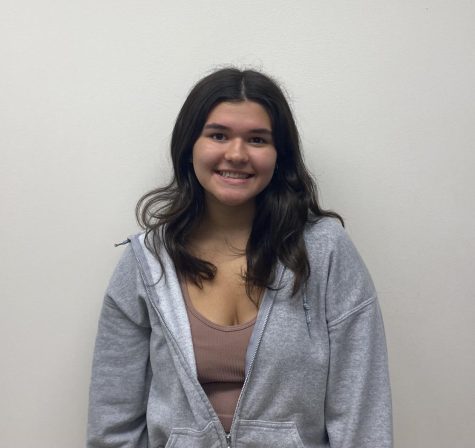 Sofia Williams, Sports Coverage Manager
Name: Sofia Williams



Position: Sports and Activities 2 Editor



Graduation Year: 2024



A Few Sentences About Me: I...