Volleyball Wraps Up
On Tuesday, Oct. 8, the varsity girls volleyball team beat Sandwich High School 2-0. This became the girls' 18th win of the 2019 season. The game had a good outcome, according to the players.
"As a team I think we played very well. We kept pushing points and we wouldn't stop," junior Sammie Abruzzo said. Whether it's an individual performance or as a team, the girls think they've played well.
 "I think today I had a pretty good day. There were definitely times where I wasn't playing well, but I think I brought myself back up," sophomore Meghan O'Sullivan said. 
This team has positive energy and supportive members.
"As one of the varsity captains I tell the girls not to look at me as a scary captain but a leader and a friend they can go to if they need anything. I believe everyone is equal on the team and everyone is a leader and plays a big role" senior Grace Franz said. Franz is one of only four seniors. Last year, eight players graduated, leaving Kaneland with a relatively younger team. 
"Those that are a sophomore or junior have really stepped up this year. It takes a lot of courage and pressure to be playing up a level, and they are killing it," Franz said. 
The players aren't the only people proud of each other after Tuesday's game. Head coach Cynthia Violett is always there for her team. 
"They continued to run a quick offensive against Sandwich and moved the ball around to multiple hitters. They also worked hard on their takeaways from Sandwich," Violett said. 
Although the season is coming to a close, the team is working as hard as ever. A conference championship is the main goal the girls have their eyes on currently. 
"Right now, if we win all our games, we're projected to win conference," senior captain Grace Vranicar said. It is important not to forget all the practice that goes into getting there.
 "I think we all love volleyball, but everyone is also very determined. We all strive to get better so working hard in practice helps us have more motivation to play really well during games," O'Sullivan said. 
The last games of the 2019 season are coming up. The last home game is Senior Night, Thursday, Oct 24.
About the Contributor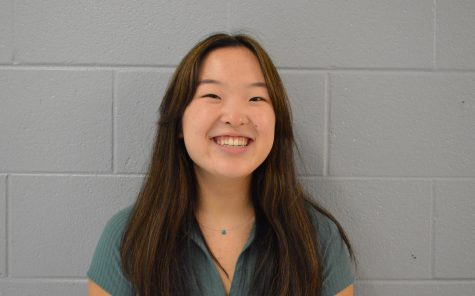 Karmyn Hookham, Social Media Manager
Position: Social Media Manager

Graduation Year: 2022

My Future Goals:  I'd like to attend Seoul National University and double major in fashion...