Nopal en la Frente: Mami and Her Country
Mamí talks about Mexico with pride. She holds her country close to her heart and welcomes it with open arms. She tells cuentos de tierras hermosas – tales of beautiful lands – and the secrets they hold. Her voice is a song as she tells tales of her childhood. The animation in her eyes and the passion in her voice sings about a love so raw and real. The laughter radiating from her bounces off walls and fills the room.
It is easy to see that Mamí loves her country. She talks about it like a dream. Her memory of better days and better people. Before this country decided she wasn't enough. Before she was snarled at for having pigmented skin or was followed from a gas station to work, with insults flying her way. Before this country worked her for more and more and more and more, but always gave her less than she deserved. Mamí talks about Mexico, about her family there, and holds them close to her heart.
When Mamí came to this country she had a dream for her children. While she loves Mexico, Mamí and Papí were never blind to the dangers it holds.The tierras of their home hides the sorrows of its people behind beauty. It wraps its arms around a community and leaves it crushed. The people of Mexico know hardship. Mamí and Papí know it too. So while she sings of better days and better people, Mamí and Papí gave up the life they once knew in hopes that this country would do what Mexico couldn't.
About the Writer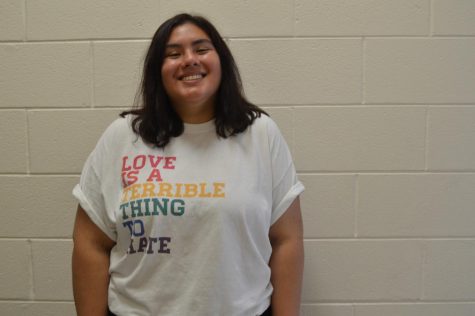 Abril Salinas, Executive: Ad and Business Manager
Position: Executive

Grade:12

Hobby: Reading and painting