A Kaneland Teacher's Extraordinary Life
Javier Martinez is a high school history teacher to some, but to many others, he is a veteran, Medal of Honor advocate, coach and co-worker. During Martinez's years at Kaneland High School, he has been a soccer coach, a history teacher and an assistant Athletic Director for spring sports. But long before his time at Kaneland, Martinez served in the United States Marine Corps. 
"Teaching was never something I had thought about doing when I was in elementary school or middle school. Even up to college, teaching was never something I had considered," Martinez said.
While teaching may not have been on young Martinez's mind, the military was. While the military isn't for everyone, Martinez was sure it was for him even from a young age. 
"Probably sometime around my eighth-grade year, I started thinking about joining the military and then really looked into it during high school. I started looking at ways to go to college and still be in the military, which is how I ended up in the Army Reserves Officer Training program so I could go into the military and get a degree," Martinez said. 
With no thought of teaching, Martinez went to the University of Notre Dame through their Army Reserve Officers' Training Corps. This program, still used in many colleges today, allows for students who are interested in the military to become officers while still getting a college education. Martinez was able to become an engineer while gaining the title of officer. This rigorous program involves going to normal classes on top of taking military classes and partaking in year-round training. 
"I was able to be a college student. No special restrictions of any sort. I just had to take military science classes, wear my uniform and go to once-a-week drills. And in the summers, I had to go to training which was fine because it was all over the world, so it was actually fun," Martinez said.
Martinez has traveled in the states as well as out of the country while serving.
"While in the military most of my travel was here in the states. I mean, I got to visit Hong Kong and the Philippines. I lived on Okinawa for a year, and while I was living on Okinawa I got to go to Korea for a few weeks, so it was all in the far east," Martinez said.
With traveling the world comes a lot of cultural changes and experiences. During Martinez's long stay at an American base in Okinawa, he was able to experience a different culture. 
"The base was just where I worked. The community of Okinawa was Japanese, so it was different in the sense that it was a different culture, language and all the signs were in Japanese, but there was still a lot of Americanization. There was a Pizza Hut and American-style restaurants. Martinez said. I lived in town. I didn't live on base. I was on base for work, but on the weekends we would go out to shop in the community. It was interesting living in a foreign country with a lot of Americans because there was military personnel there. My neighbor was in the military, neighbors down the street were in the military, but there were also Japanese families living next to us so we got to see their day-to-day lives," Martinez said.
After serving for five years on active duty and five years of the reserves, Martinez decided to pursue his newfound love of teaching. By this point, Martinez was married with two kids. While working another job at a corporation during the day and raising his children, Martinez still made room for school. 
"I decided I maybe wanted to do something different, so I started looking at teaching as a potential job so I started going to night school. My college degree is in engineering, so to become a history teacher at the high school level you have to have more social studies credits than I had because I didn't take a lot of social studies credits because that was not my degree," Martinez said. "So I went back to community college to take a bunch of social studies classes, and then I went to Aurora for a master's program to get my teaching license so that took about six years".
Many teachers jump from school to school throughout the entirety of their teaching career. Martinez is a different case.
"I student taught here and then I got hired at the end of my student teaching, so I am finishing my 15th year. So my first year was the school year of 2007-08," Martinez said.
Martinez has taught Advanced Placement United States History, regular United States History and Armed Conflict. Martinez has taught and influenced thousands of students in his years at Kaneland. 
"He's a really good teacher from what I've learned from him. He's had a lot of crazy life experiences, so he's able to share his wisdom with us students and teaches us a lot about the real world," junior Lindsay Yost said.
Throughout Martinez's 15 years, he has been a very active member of the Kaneland community. Martinez has been a coach, adviser and coordinator for several events. 
"At Kaneland, I was the soccer coach for a while for boys and girls junior varsity, I was the Student Council adviser before that and now I am the assistant Athletic Director of spring sports. So I do all that here at Kaneland in addition to teaching," Martinez said.
He coached for six years alongside Kaneland math teacher Travis Berth.
"He's a really good coach for coaching people to be leaders. I'd say that probably comes from his military background, but he does a really good job expecting a lot from his leaders, but then also teaches people how to be a leader and take a leadership role," Math Teacher Travis Berth said. 
Martinez is also an avid supporter of the Medal of Honor Society. The Medal of Honor is the highest honor you can be awarded in the military. As a veteran, Martinez finds the importance of teaching his students about the brave actions that awarded these soldiers a Medal of Honor. 
"I really appreciate his lessons about the Medal of Honor. He makes sure to teach us about U.S. history while also teaching us the core values of life and how to be a good person in the real world," Junior Lindsay Yost said.
Martinez not only shares these valuable lessons and stories with his own students, but he also travels around the country teaching other students and teachers about these honorable men and women. 
"The Medal of Honor Society is something that I started doing six years ago. This involves teaching teachers across the country about the Character Education Program. I travel around the country, typically one time a month, to go and train teachers in other states, and I'll continue to do that after I leave Kaneland," Martinez said.
Martinez has not only made a large impact on our school through his teaching, coaching and coordinating spring sports, but he has also made a positive impact on many others through military experience and Medal of Honor advocacy. 
About the Contributor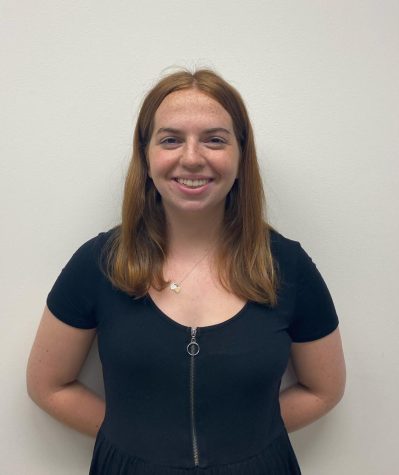 Abbey Mondi, Voices 1 Editor
Name: Abbey Mondi



Position: Voices 1 Editor



Graduation Year: 2023



A Few Sentences About Me: I love getting involved...