Everyday Heroes
As 2019 came to an end, 2020 looked to be a bright future for people around the world. Not very far into the year, COVID-19 quickly destroyed these hopes. Faster than most could imagine, it took over not only the country, but the world. Understandably, this global pandemic has caused some panic; in times like this, many people are afraid, upset at the loss of our normal lives and even angry or short-tempered. However, the opposite has also been shown. Many citizens have been going the extra mile to make this difficult time as positive as possible. 
As students, most of us know that school has changed quite dramatically. Teachers have been affected by this new way of learning as well, but they are rising to the challenge. Physical education teacher Jill Carpenter expressed that this change has impacted her classes significantly. 
"I teach three different types of classes: walking for wellness, total body fitness and lifetime PE," Carpenter said. 
According to Carpenter, each class has adapted differently. For her walking class, not much has changed considering there is plenty of time to go on walks outside. For her total body fitness and lifetime classes, many options are limited, and they have had to modify their sources of physical activity.  
Many Kaneland teachers have embraced the opportunity to be positive and let students know that they are not alone. Carpenter, for example, tries to reach out personally to each student through individual emails. 
"I am not usually a selfie or video person, but I have sent out one video a week with my Monday emails. I want to be as personable and connected as possible with my students. I want them to know I am still here and care about each of them. I want them to feel comfortable reaching out if they need something from me," Carpenter said. 
Outside of education, small businesses are also struggling. Most people have either stocked up on groceries or gravitate towards drive-throughs because they are fast and easy. Co-owner of Mike and Denise's Pizzeria and Pub Denise Siddon understands the fight for business as this pandemic continues. She explains that while this is a difficult time in business, there has also been a lot of positive teamwork in the community. 
"We are a huge supporter of Yorkville in the community and with this pandemic starting, everybody in this town came out in droves and placed orders with us, knowing that this would be a difficult time," Siddon said.
 Even other businesses have stepped in to offer help. 
"I have had workers from other restaurants who were out of work text me an offer to come and do curbside pickup, wash dishes or whatever needs to be done in order to help us out," Siddon said.
 This has also been a great opportunity for the community to step in and show their support. 
"One of the mortgage brokers in my town who is a regular customer donated over 500 pens. So when customers come in, they can each have their own personal pen and not have to re-use one that we have at the bar. It makes everyone feel more at ease," Siddon said. 
There are even ways people are heroically caring for their community from the comfort of their own homes. West Aurora High School's band director Patty Sampson started what she calls The Corona Concert Series. She has been doing this for about five weeks and has already had an overwhelming amount of success. 
"Basically, it is just me standing on my porch playing my saxophone, but it has turned into something much bigger," Sampson said.
 She admits that, at first, this was just a way for her to get through this difficult time. 
"I began The Corona Concert Series for a couple of reasons. Selfishly, to give myself something to do, and then to entertain my neighbors and for the community," Sampson said.
 She also streams her concerts live on Facebook so people can watch from home as well. Not long after the idea sprouted, another one came to Sampson: this could make money. 
"I got the idea to open a virtual tip jar through PayPal, and I promised to donate all proceeds to the Aurora Interfaith Food Pantry and other charities," Sampson said.
 After being featured on WGN news on April 8, donations skyrocketed. Sampson has currently donated over $5,000 to charity. One day, Sampson decided to go beyond just her neighborhood and played at a nursing home in Aurora. 
"After the concert an older lady walked up to me and gave me an envelope with five dollars in it. She said it was not much but it was all she could give. Things like that inspire me to keep doing this," Sampson said.
 This touched her heart because while the lady did not have a lot, she gave completely out of the kindness of her heart. Sampson also mentioned people from her neighborhood and all over the country leave money in her mailbox. 
"One person even left $1,000 anonymously in the virtual tip jar. That person obviously has money, but the fact that it was anonymous showed me that they did not do it for recognition, but just to be kind," Sampson said.
 From all of the support and donations, Sampson has learned people want to be a part of something bigger than themselves and this is a way for them to do that. 
This period of time has been something never experienced before, and while it has taken a toll on our happiness and well-being, others have taken this as an opportunity to better our community. 2020 might not be off to the best start, but there is still a great future ahead of us. 
About the Contributor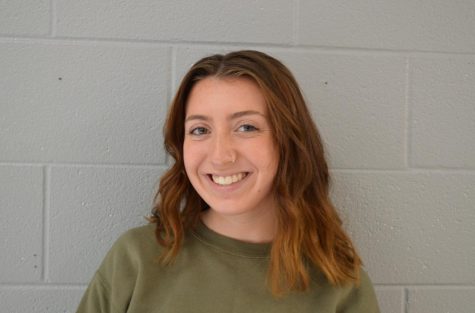 Sophie Opp, Co Editor-In-Chief of Print and Copyeditor
Position: Co-Editor-In-Chief of Print and Copyeditor

Graduation Year: 2022

My Future Goals:  I want to become a better writer, remain an active...