Fluffy New Guests at Kaneland
School and life can get stressful, but what is more comforting and exciting than walking down the KHS hallways and running into a Golden Retriever?
Our school has welcomed these loving friends, Adeena and Eunice, twice now and plan to continue inviting them back.
One of the comfort dogs, Adeena, is owned by St. John Lutheran church, but has a trained handler which allows her to stay in their home. Eunice, the other dog that was at school, is not owned by the church, but is a church staff owned comfort dog.  
"We have five trained handlers at our church, even though the dogs are owned by the church each dog has a primary home and caregiver. Even when they're not working they have very strict rules so you have to be trained and certified even for the dog to come and stay with you," trained comfort dog handler Shar Farran said.
St. John Lutheran Church comfort dogs go around to all different places including schools, libraries, nursing homes, hospitals, O'Hare airport, disaster response areas, Make-A-Wish foundation events and anywhere else they are welcomed.
The purpose of bringing a comfort dog to places is to create a positive and stress free space and to help people in need, whether it be someone with special needs or someone going through a rough time dealing with stress, anxiety, depression or any other problems. They are skilled and extremely well behaved, not to mention their favorite thing to do is get lots of love and attention.
"They are trained to bring a calming influence to anyone in need and they just make people smile. It makes people feel good," Farran said.
The Lutheran Church Charities (LCC) comfort dogs are trained at two different training centers. One of the training centers is in Northbrook, IL and the other training center is in Nebraska. Adeena was trained at Dwight Correctional Center (DCC), which is a women's prison in Dwight, IL. She was the first dog out of 25 to be trained at DCC. After the prison closed the Lutheran Church Charities had to come up with their own training, and that is why there are currently two training centers.
"The dogs start training at eight weeks and the training lasts anywhere from a year to a year and a half. Adeena is eight years old, she's been a comfort at our church (LCC) for seven years and Eunice is not owned by a church, she is a staff dog and she is almost four," Farran said.
These dogs are not just average dogs, they show compassion and love, and bring a calm environment wherever they go. When the vest is on they know they need to be on their best behavior, when the vests are taken off at home the dogs are able to relax a little bit, but no matter what these dogs are always caring and calming furry friends.
"If you feel there is a need, de-stressing before finals or any big tests, talk to the teachers, your counselors, your advisors and see if we can get another invitation," Farran said.
About the Contributor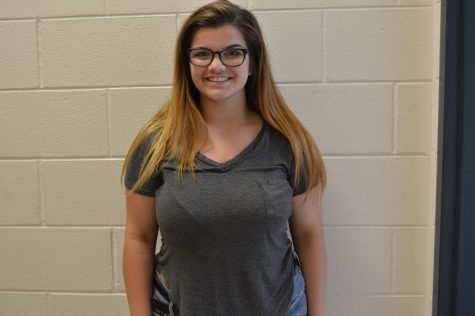 Gianna Provenzano, Executive
Webmaster. Class of 2020.