So Much More Than a Game
Years of dedication are paying off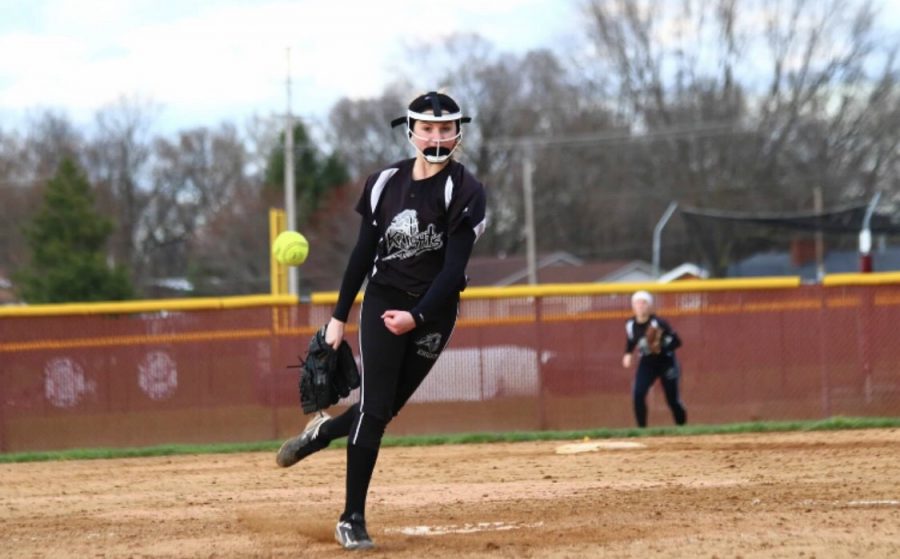 By: Ella Miller, Reporter
March 8, 2018
For softball varsity pitcher, Emilee Erickson, softball is much more than just an activity to pass the time after school. Without softball, Erickson would not have met her best friends or be the positive leader she is today.
Erickson is a sophomore and has has been playing softball for 8 years on three different travel teams. She practices around 9 hours a week and travels all weekend for tournaments and games.
Erickson started playing softball when she was 7 years old and never thought it would be such a big part of her life today.
"Softball seemed like a lot of fun and all my friends played it so my parents signed me up for the park district team," Erickson said.
One of Erikson's biggest accomplishments was making the varsity softball team her freshman year.
"Making the varsity softball team my freshman year was so exciting. It was a little nerve-racking because everyone was older than me and many had more experience, but I knew I just had to trust my skills," Erickson said
Now a sophomore, Erickson has already gotten an offer to play softball in college.
"I got my first offer to play softball from Winona State University about two months ago and I accepted it about one month ago," Erickson said.
Erickson has had many positive benefits from playing softball.
"Softball has taught me so much about the person I am, it has taught me responsibility, teamwork, leadership and overall made me a better person," Erickson said.
With all the positive benefits of playing softball there are also many sacrifices Erickson has to make for her softball commitment.
"Since I'm always practicing, I don't always have time to do other things most high schoolers can. I have had to miss football games, dances and I can't always do fun things with my friends," Erickson said.
There have also been times Erickson has thought about quitting softball.
"Once I got to high school I thought about possibly quitting softball completely because it took so much of my time and I couldn't always hangout with my friends. I didn't really feel like a normal teenager. Then I thought about how boring my life would be without softball and how I wouldn't get to play with all my friends and realized I wanted to keep playing," Erickson said.
Even though you could never tell, Erickson gets nervous on the field all the time during big games.
"I almost always get nervous for games but you can never let the other team know that you're nervous. In my warm ups I always think about trusting myself and my skills and not worrying who is on the other side of the field," Erickson said.
Describing herself Erickson is very competitive in softball.
"I'm extremely competitive when it comes to softball, I think that the way I get better is being competitive and wanting to beat the other team," Erickson said.
Erickson's friends and family are her biggest supporters on and off the field.
"Emilee is always positive and a great leader. She always hypes us up before every game," sophomore teammate Rachael Hendricks said.
"Emilee is such a hard worker and so dedicated to her sport," her father, Ron Erickson, said.
With the spring high school softball season coming up Erickson has a few goals in mind for her and her team.
"This upcoming season I would like to see our team play more together as a team instead of as individuals, I think we need to only focus on our team not the competitors and I hope we go far in the state tournament this year." Erickson said.