The Life of a Student Musician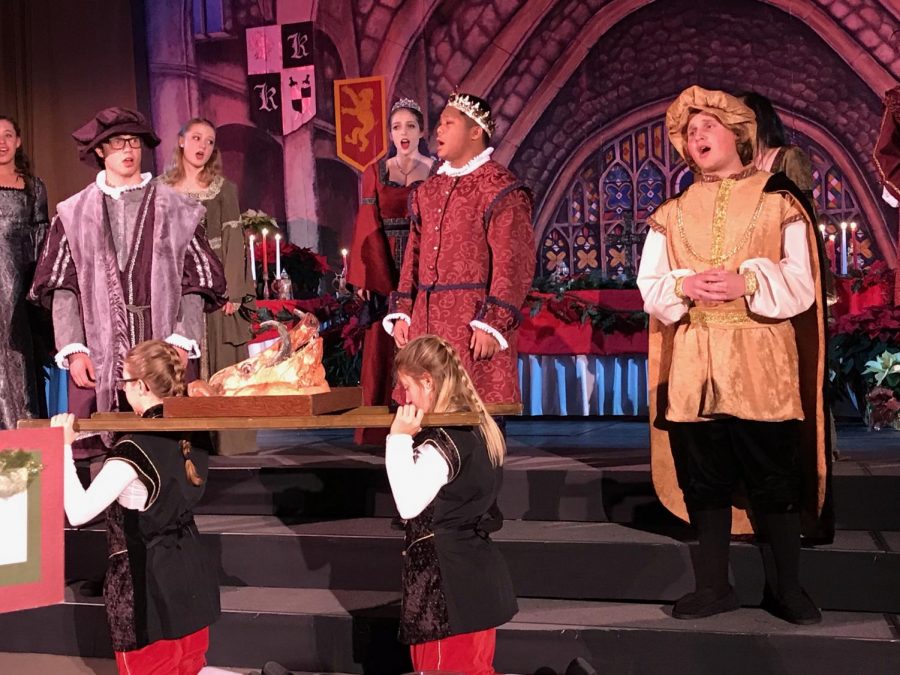 By: Sarah Prunty, Reporter
March 2, 2018
Music is around everyone, especially senior Gunnar Magnuson. From the band to the choir, there is always something to look forward to, and he knows all about the music student life.
Magnuson is known for his talent in the band and choir, but most people do not know he has not always been in choir. His junior year he joined the Madrigals as a baritone.
"I kind of always wanted to do it, but hearing how good the Madrigals were, made me want to even more and I've always loved to sing so I knew I wouldn't regret it," Magnuson said.
Magnuson had been surrounded by music his whole life, his parents introduced him to CDs at a young age blossoming his interest in the music field.
"I can remember listening to my moms CDs on our long road trips and I still listen to those same CDs because I still love them," Magnuson said.
CDs were not the only way his parents got him introduced and interested in music.
"My mom had me take piano lessons when I was age five. [It's] when I began and I've been playing and listening to music ever since," Magnuson said.
As he grew up having music in his life, he got more interested in music classes. He was in the band throughout middle school and high school, but junior year was when he committed to wanting to join choir. His family and friends being his biggest support in his musical career.
"The best part of working with Gunnar is his positive energy and love of performing. He is so passionate about music and it's very inspiring. Whether singing in madrigals or acting in the spring musical, he is always a joy to be around," senior Lydia Kasap said.
Joining the Madrigals was a big step for Magnuson, he was dedicated to the music. His performances coming up are those that follow his singing, rather than the band.
"We have some [performances] with the madrigals, we get to perform in Chicago a couple Saturday's from now. The Chicago symphony orchestra, it is really cool. We also perform the last Friday before break, for all the elementary schools," Magnuson said.
Last school year he joined the musical, "Singing in the Rain," which included dancing, acting as well as singing. The musical director, Rachel Giles, worked with him and will be working with him again if he joins the musical this year.
"He is so talented. He can just sit down at a piano and crank it out, which is not something I have ever been able to do, he is just so talented," Giles said.
After graduation Magnuson plans to continue music but is not sure of what his exact career will be.
"I still kind of want to be a rockstar. Composing, being a jazz musician or accompanist, even being in musicals as an actor. But if not, I don't know maybe a math professor, that would be fun. NIU has a really good jazz band, I know I wouldn't make the top one but hopefully one of them," Magnuson said.