Kaneland Performing Arts Section Changes Plans for Practices, Rehearsals and More
Since the beginning of the 2020-2021 school year and earlier, Kaneland's performing arts department has begun getting back into the swing of things, despite significant changes due to the COVID-19 pandemic.
Due to the COVID-19 pandemic that has overcome our nation throughout the course of the last seven months, as well as the dangers and restrictions that come with it, the way these programs are running are drastically changing. Of course, throughout all of the programs, those participating are social distancing and wearing masks as much as possible, but all of them have had the majority of their events canceled. Some have had to completely virtualize their plans for the future until further notice. Others are still very much in the dark.
Aaron Puckett, the director of the marching band, jazz band, concert band and wind ensemble, while still being able to get together with the band for socially distanced rehearsals weekly, has had the normal plans for a marching band season taken from him.
"Typically, we have, in a season, five parades, four to five football games, four to five competitions, and this year we are not doing any of those normal performances," Puckett said. "We are looking to do some outdoor playing at some senior citizen living facilities. We did one (on September 17th) in Sugar Grove (at the Chelsea Commons Senior Living Apartments), and it was very well received."
Puckett and the band had another performance on Oct. 1 at the Sugar Grove Senior Living building. Their performances have been consistently on Thursdays, and when they aren't performing and the weather allows, they are rehearsing at the high school out and around the building.
As far as additional safety measures for band members, it is difficult to, and in some most cases impossible to play an instrument with a mask on, so Puckett has ordered special masks and instrument covers to work around this.
Assistant marching band director Rebecca Andersen has not had it as fortunate. As the marching band, concert band and jazz band director for seventh and eighth grade students, she has another situation to deal with at Kaneland Harter Middle School.
"Well, unfortunately we do not have any performances scheduled for the fall. We're still doing exactly what we did last year (in terms of rehearsals). We learned dots (movement points on the field during a performance), we learned a new song," Andersen said. "No plans on performing at any time. I'm hoping in the spring if the high school marches, we march."
During class, the middle school band is taking every opportunity to be outside and is continuing to practice marching songs in case of any potential performances, whether in the near future or later this year.
"My whole goal is to get the students to be a high school musician. Even though we're not performing it, I still felt it was important for the kids to learn how to read dots," Andersen said. "And they're doing a great job. They're really killing it." 
Bradley Staker, the seventh and eighth grade choir, play, and musical director is in a similar position to Andersen.
Like Andersen, the choir is having a hard time figuring out performances, and thus is not able to schedule or perform any. 
"So far right now, we're pretty much not having concerts," Staker said. "Hopefully in the spring we can have some normalcy."
Staker has a developed plan to keep the theatre department on its feet.
"For the play, we're actually doing it all outside, and we're recording it as well as letting a small amount of audience members watch," Staker said.
The middle school fall play is happening in October.
While being in a similar situation to the middle school choir, high school choir and Madrigals director and performing arts Department Chair Bryan Kunstman has a very detailed procedure to deal with COVID-19 into the future.
"Well currently we cannot have any people attend any type of concert. We've got three different scenarios set up based on the potential restrictions we're currently operating under," Kunstman said. "So, if the next concert date comes up and we're still in stage four here, we would do the best we could to record our ensembles together… It couldn't be live because there's no way with the limitations of numbers. If somehow we're able to be back together, we'd obviously adjust and do concerts like normal. If for some reason there were to be a step back we'd have to recalibrate and look at doing completely remote stuff with recording students and editing. We'll make it work one way or another."
As for the Madrigal Dinner that happens during the holiday season, unless the virus slows way down, it will be moved to the spring time and the theme will be changed.
High School theatre director Rachel Giles has a very unique way of presenting the fall and winter plays this year. Both performances will currently be fully virtual.
"So the fall play and the winter play are going to be done virtually. We're still waiting to figure out what we can do in the spring for a musical. We don't really know what that's going to look like in the spring so we're still holding out for doing something in person, but we'll wait and see," Giles said. "[The fall play] is fully remote, so everybody will be in their own house, which has presented its own fun challenges… It will be live. What we're going to do is we're working with a company called Broadway on Demand, and I will livestream my screen through them and what's kind of cool is you can watch at home, so when you go on the school website and buy a ticket it will give you an access code and it will give you a livestream of the performance."
Giles is working with auditorium manager and scenic director Emily VanDelinder-Birchfield and assistant theatre director Danielle Giles to prepare for the virtual play.
This winter play, "30 Reasons Not to be in a Play," is the first winter play here at Kaneland. Auditions were October 7 and 8.
The fall play is "Clue," and while auditions are done now it will be streamed on Friday and Saturday of Halloween weekend. It Will also run on Sunday Nov. 1, at 2:00p.m.
Different clubs and sections under the performing arts title have also been severely impacted.
For Tyler Brooks, Tyler Stewart and Alex Salinas, the percussion instructors for the marching band and winter percussion seasons, COVID-19 and its restrictions caused them to lose lots of rehearsal time and changed the way winter percussion is going to work.
"If a winter percussion season does work out, we can do some virtual performances with the possibility of doing some in-person performances," Brooks said. "Most likely it would be limited to family and close friends. I would imagine a 50% capacity thing. These [virtual] events will take place at Kaneland. Most likely in the east gym. We may be allowed to do some performances at local high schools. Maybe even outside in the parking lot."
As for the percussion section within the marching band, they did virtual calls throughout the summer, are meeting together on Thursdays alongside the rest of the band and are soon to be resuming virtual calls going into the winter.
Among all the different programs here at Kaneland, the consensus is that the students, while very upset that they can't participate in some of the activities that they love this year, are all excited to do whatever they can, and teachers find it very important to continue practicing and performing because music uplifts those who listen to it.
"If we can find a way to do it, I want to do it," Giles said.
About the Contributor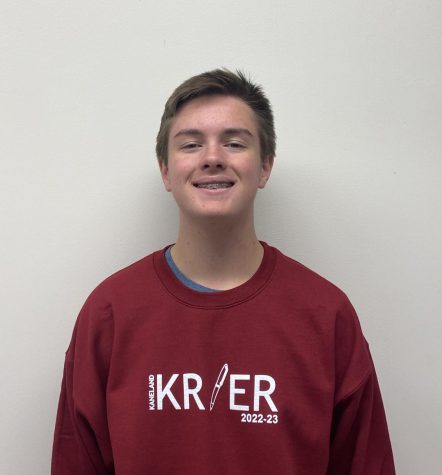 Kevin Sigrist, Editor-in-Chief of Print and Production Executive
Name: Kevin Sigrist



Position: Editor-In-Chief of Print and Production Executive



Graduation Year: 2024



A Few Sentences...