Latest Board Meeting Focuses on Details of Return to Learn Plan
On Monday, August 10, Kaneland School District 302 Board members Shana Sparber, Ryan Kerry, Gale Pavlak and Pedro Rivas held a regularly scheduled meeting in the Harter Middle School cafeteria to further discuss their Return to Learn plan for later this month. Members Meg Junk, Aaron Lawler and Teresa Witt were absent. There was no public input this time, so their first topic of discussion was the calendar they received from district administration at their last meeting, which has since been changed. District 302's starting date has been pushed back by one week. Students will now start in-person instruction on Thursday, August 20. This decision was made to help teachers better prepare for a successful start to the school year, according to a letter from Superintendent Dr. Todd Leden to the Board. This additional time to prepare for the year causes a slight adjustment to Kaneland's academic calendar. 
"Thursday, August 13, and Friday, August 14, which were originally designed to be the first two student days, are now being moved to remote learning planning days," Kerry said. "Directors of Ed Service along with our association and staff are creating plans to ensure a successful transition into the school year. To make up for those days getting pushed back, it is recommended that we add those days on to the end of the school year. Our last day on this schedule is Monday, May 24."
In case of any emergencies, such as snow days, Kerry also pointed out that, on the calendar they received, those emergency days (if needed) will now be May 25 through June 1, and that the A/B calendar will be updated along with it.
"That is what we recommend tonight. That is what we have set. We'll have to see as the school year moves on if any of those days need to be shifted or adjusted," Kerry said.
While there was some concern that there is a 20-day difference between fall and spring semesters, Kerry pointed out that there are more testing days and emergency days tacked on to the spring calendar and that it is still Kaneland's goal to finish first semester before Winter Break, making it shorter.
The Board's next topic of discussion was transportation for students who have special needs, which was handed over to Associate Superintendent Dr. Julie-Ann Fuchs. 
"The district continues to contract with Illinois Central for the transportation services for our students with special needs. We own our own bus fleet and typically do a lot of routes for our regular [education] students, but for Illinois Central, just like they did last spring, they are asking that, should we go 100% remote, they will still need to pay their bus drivers," Fuchs said. "They are asking the Board to commit to 82% of our contract. That money would be used to cover the salaries of the bus drivers and the bus monitors. It would also include no overhead insurance or bus payments. Those would be covered by Illinois Central." 
In order to work successfully with their contractors, the Board then addressed the contract amendment. Kerry, however, was not immediately satisfied with such an agreement. When asked what part he struggled to agree with, he replied "paying people to do nothing" as a reason to discuss the matter further. Board President Sparber mentioned that if we were to go back and forth between hybrid and full remote learning, we would want bus drivers available. Other districts use this method.
"They service several districts in the area for various transportation needs. Some districts use them for regular [education], others for regular and special [education]. It just depends. Sometimes they are compliant, sometimes not. They work it out individually with their districts, depending on what their needs are," Sparber said. "Currently, if they transport our students, we'll pay our regular bill. This is in the event that throughout the school year, if we go remote, this is in place and they know how to handle it. It's the state's intention to reimburse us."
After discussing the district's transportation needs, Director of Human Resources Dr. Christopher Adkins gave his update on the reduction of a staff member. The staff member's name was withheld from the discussion.
"This process involves an honorable reduction in force for this staff member. They are an excellent staff member who provides a very specific service to one of our students. Unfortunately, due to the pandemic situation, this student is not able to attend school this year. Being a one-on-one for that student, we do not have a need for that employee any further," Adkins said. "We notified her well beyond 30 days to let them know that we will be reducing that staff member in force. They will be released and do have recall rights for one year from today. Should we have a need for that employee moving forward, or if the student themself is able to return to school, this employee is subject to recall and will have rights to a position before we open it." 
The Board approved of this staffing decision. Leden later explained that Kaneland's current plan to start the school year has been approved by the state. The difference between a formal plan and our current remote plan are the steps it takes to get it approved. Leden said that our current remote plan can also be used for the aforementioned emergency days as opposed to a state-approved e-learning plan, as Kaneland "does not have the time or inclination to shift the remote plan to a formal e-learning plan."
Kaneland does have a remote learning plan in place should we have to switch to that model during the year. Our current hybrid and remote days have been approved by the Regional Office of Education, as well. Student schedules will be available on Tyler on August 17, and if all goes according to plan, school will officially be back in session for students on August 20.
About the Writer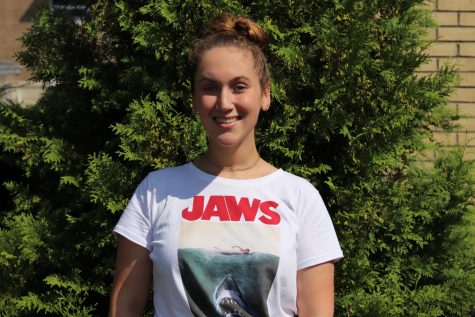 Sarah Janito, Activities Editor
Position: Centerspread Editor

Graduation Year: 2022

My Future Goals: I want to graduate high school, go to college and pursue my passion. It has...