Volleyball Goes to Regionals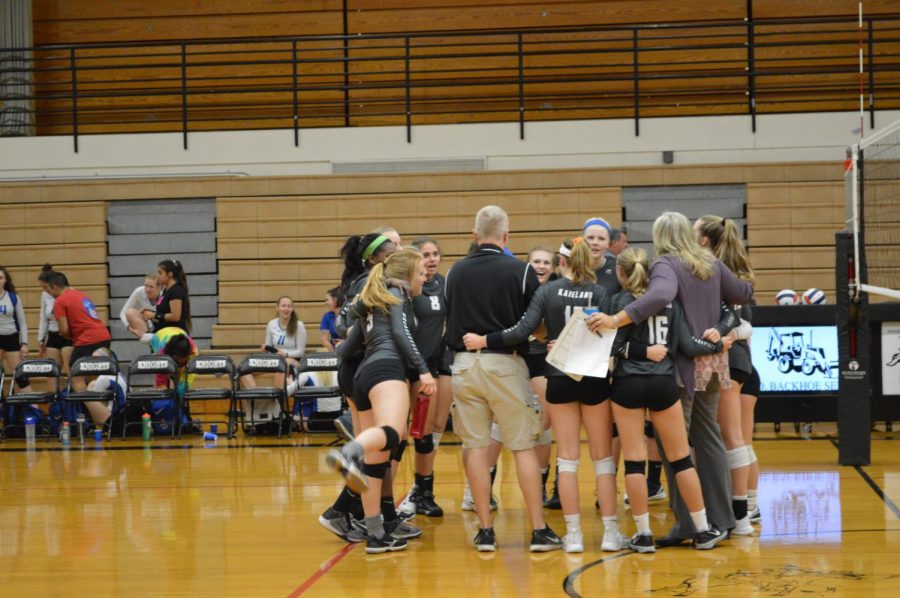 By: Olivia Hazen, Reporter
October 26, 2017
The Lady Knights varsity volleyball team took home a win in their first regional match on Monday night at 6 p.m. in the east gym at Kaneland High School against Larkin High School.
Kaneland dominated the first two games ending the match quickly with a final score of 2-0. Larkin played the majority of the games on defence while Kaneland was in control of the match on offense. The girls came on to the court ready to play and stayed strong all the way to the end. They played with confidence and respected their opponents.
Head Coach Cynthia Violett's game plan played out just as she had hoped.
"My strategy is to not let us play at [Larkin's] level, to make sure that the girls come out and play at our level, not at larkin's level and make sure that we hit the ball hard. We are number six seat and they are number 16 seat, so a faster pace game. I'm hoping that we beat them in two." Violett said.
Senior Sheika Mushunduzi thought that the matches highlights were serving and hitting while sophomore, Grace Franz was happy to see players on the court that she didn't usually get to play with.
" We are all close friends, and have a great time together," Franz said.
It is clear that the bond between all the girls is really strong.
"I think right now our strongest quality would probably be the way they're working together. I wouldn't say that one person is standing out I think we have a lot of really good players and we are really working well together right now." Violett said.
Since the girls won against Larkin they will continue playing in the regionals against Saint Charles North.
The girls played against Saint Charles North Tuesday night at 5:30p.m at Kaneland High School in the east gym but their season ended when North took the first two games of the match.